Easy peasy, these dark chocolate orange cupcakes are absolutely delicious. They are light and fluffy, and the orange flavoring is especially delicious. The vanilla orange frosting is a great addition!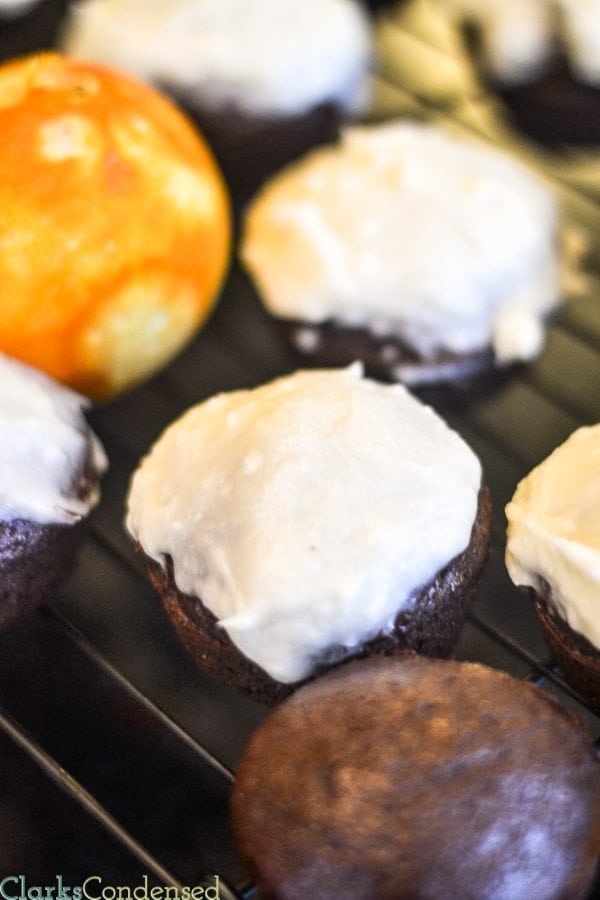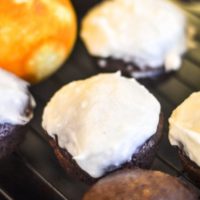 Dark Chocolate Orange Cupcakes
Ingredients
CUPCAKES
1/2 cup dark cocoa powder
3/4 cup all-purpose flour
1/2 teaspoon baking soda
3/4 teaspoon baking powder
1/4 teaspoon salt
2 large eggs
1/2 cup granulated sugar
1/2 cup light brown sugar
1/3 cup vegetable oil
1 teaspoons vanilla extract
2 teaspoons orange juice
1/2 cup buttermilk
FROSTING
1 1/2 cups butter, softened
4 1/2 cups powdered sugar
2 tablespoons almond milk or regular milk
1 tablespoon orange juice
1 teaspoon vanilla
Instructions
CUPCAKES
Preheat the oven to 350 degrees.
Line a muffin pan with cupcake liners. You may need to do more than one pan.
In a large bowl, whisk the cocoa powder, flour, baking soda, baking powder, and salt together. Set aside.
Whisk the eggs, white sugar, brown sugar, oil, vanilla & orange together until smooth.
Mix half of the wet ingredients into the dry ingredients, and then mix in 1/4 cup buttermilk.
Mix the rest of the wet ingredients in, then the buttermilk.
Stir until everything is barely combined. Do not overmix!
Pour batter into liners (fill only half way)
Bake for about 15-20 minutes, or until toothpick comes out clean.
Let cool on cooling rack until completely cooled.
Spread with frosting.
FROSTING
With a hand mixer, mix together butter and powdered sugar until smooth.
Stir in milk, orange juice, and vanilla until smooth.
Notes
Recipe adapted from Sally's Baking Addiction
When we were in North Carolina over Christmas, we were lucky enough to be able to go to our nephew's fourth birthday party. We were especially excited that Jack was able to go because he just adores his older cousin.
I don't feel like I have a lot of awesome talents, but whenever there's food involved, I like to offer to bring something (not that I'm some culinary master.) So I was excited when Forrest's brother asked me to bring cupcakes! I thought it would be fun to experiment a little bit with different flavors. I know that parties probably aren't the best place to experiment…but hey, it worked out.
I made a couple different batches – one that was gluten free so Jack could enjoy them, and then another batch of classic, chocolate cupcakes with a fun orange twist. I topped both with a yummy vanilla orange frosting.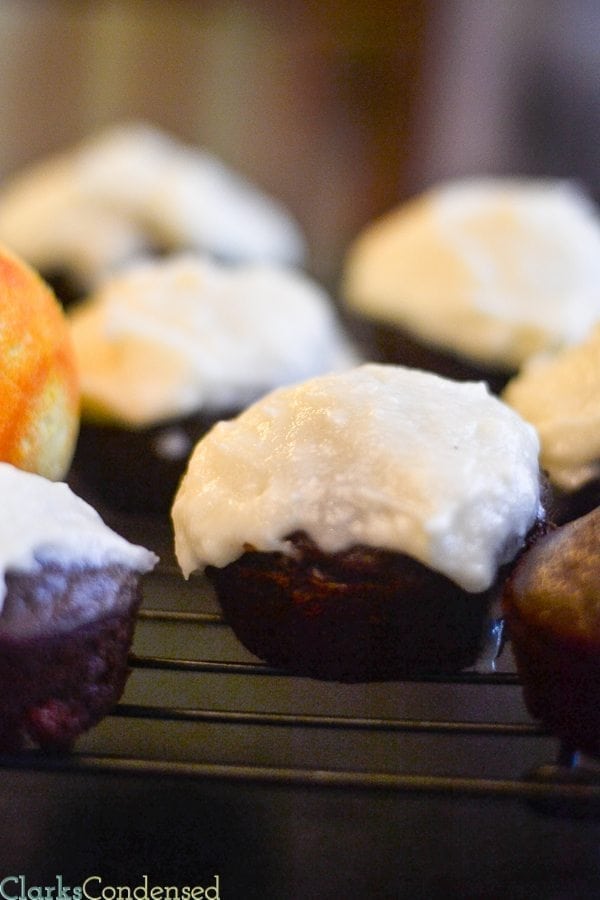 I didn't get very good pictures, but hopefully you won't judge the recipe on lack of beautiful pictures. It's just too yummy not to share. Everyone seemed to really enjoy these ones – they were light and fluffy, and the subtle orange flavor was an added bonus.