There are a lot of copycat, Chick-fil-A recipes out there, but there's none as good as this copycat Chick-fil-a Chicken Sandwich. You may not go to Chick-fil-A again after tasting this sandwich!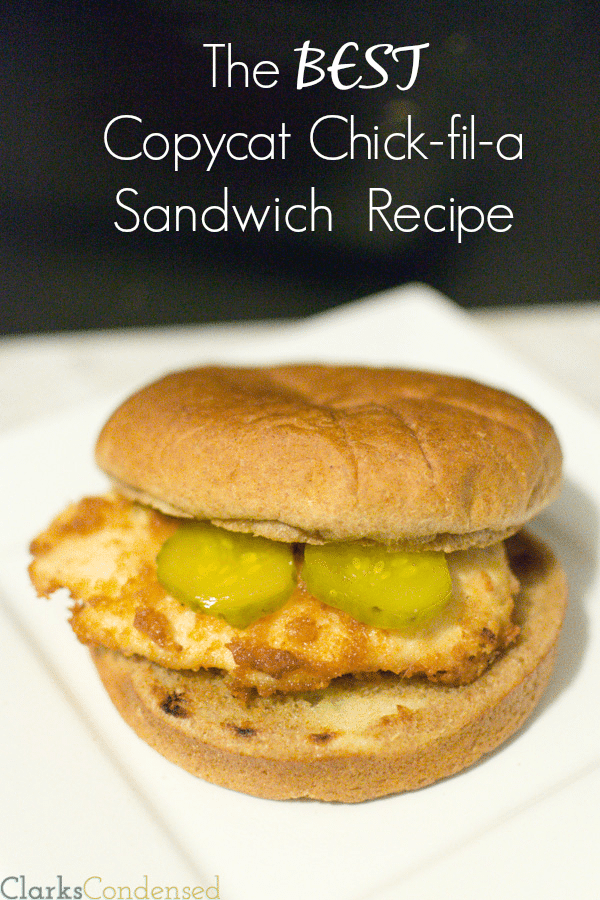 Chick-fil-a is definitely my favorite fast food restaurant out there. For one, it feels like it's healthier than other places. When I was in second grade, I remember writing down that I wanted to work at Chick-fil-a when I grew up. I'm sure that was mainly because my oldest sister worked there, and it just seemed so cool. Although I out grew the desire to work there, I still love their food.
Because it's so delicious, it does cost more than just dropping by a McDonalds. Combined with the fact that the only Chick-fil-a nearby is in a mall (and…I hate going to malls,) we haven't been for awhile. The other day, I was having a huge craving for it though! So I searched and searched for recipes, and finally found this one. Along the way, however, I discovered a great debate: Does Chick-fil-a marinate their chicken in pickle juice?
Well, I had to find out for sure, so I went to the expert – my sister, Kristalyn. Here's what she said (sorry the first bit is cut off, it's the best I could do):
Does Chick-fil-A Soak Their Chicken in Pickle Juice?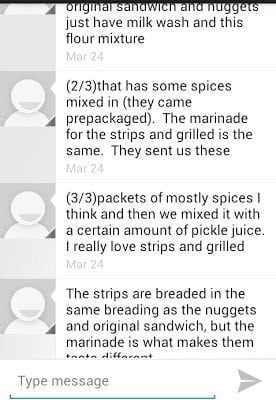 So there you have it, the nuggets and original sandwich are NOT made with pickle juice, but the chargrilled and chicken strips are. However, I decided to switch things up a little bit and marinate the chicken breast in a mixture of pickle juice and a few other spices.
I added something extra to the batter as well. These sandwiches taste very similar to Chick-fil-a, just with a slightly new kick to them. Personally, I think they taste even better, but, of course, I'm biased!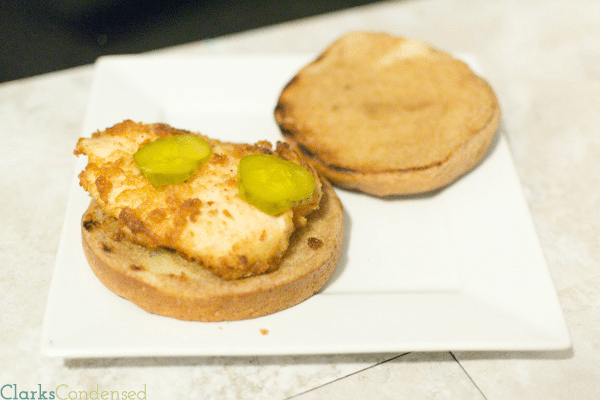 I've also included a simple recipe for the Chick-fil-a sauce. It only has two ingredients, and it tastes exactly like it!
Want more restaurant copycat restaurants?
Signup below for first access to all our BEST recipes!
How Does Chick-Fil-A Cook Their Chicken?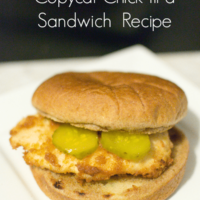 Copycat Chick-fil-A Chicken Sandwiches
Ingredients
For marinade
½ cup pickle juice
½ tsp black pepper
½ tsp paprika
½ tsp sugar
For Sandwiches
2 skinless, boneless chicken breasts
1 egg
½ cup milk
2 Tbsp. water
1 cup flour
1 Tbsp. powdered sugar
1 Tbsp. dry milk
¼ tsp baking soda
¼ tsp. ground mustard
1 tsp. pepper
½ tsp. salt
½ tsp. Cajun seasoning
Peanut oil
8 pickle slices
4 buns
3 Tbsp. Softened butter
Instructions
Put thawed chicken breasts and all the marinade ingredients in a gallon-sized Ziploc bag and shake. Place in fridge for at least thirty minutes to let chicken soak up the marinade.
After marinating chicken, take out of fridge and cut each chicken breast in half so you have four thin slices. Wrap in plastic wrap and pound until it is about ¼-inch thick.
Put enough peanut oil into a deep frying pan to cover chicken (about 1-inch) and start to heat. In a bowl, whisk milk, water, and egg. In another dish, combine the flour, powdered sugar, dry milk, baking soda, ground mustard, pepper, salt, and Cajun seasoning.
Dip chicken into milk mixture and cover. Immediately place into the next dish and coat completely. Shake off excess, and place in oil. Repeat with remaining chicken breasts.
Fry in peanut oil until chicken is cooked and the coating turns a nice, golden color, about four minutes on each side.
Heat a smaller frying pan. Butter each side of the bun, and place on the pan for a very short time. Place chicken on buns, and top with two pickles.
Notes
Notes
Inspired by http://www.fromaway.com/cooking/chick-fil-a-copycat-chicken-sandwiches