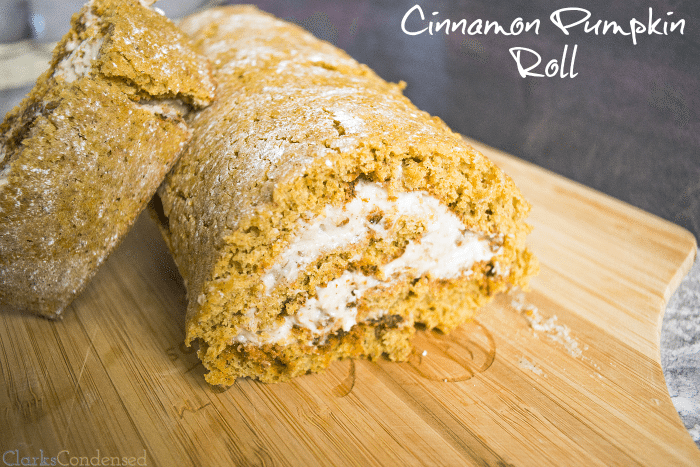 Around the time that Jack was born, my mom started making pumpkin rolls. My sister, Cindy, had her little girl, Phoebe, a few months before Jack was born. My mom was out in Utah, and we went up one evening for dinner. For dessert, my mom had made a pumpkin roll. Until that point, I can't remember ever having a pumpkin roll. I don't even remember ever seeing one! However, one bite in, and I was a pumpkin roll believer for life. So, of course, when I had Jack a few months later, I was thrilled when my mom made us a pumpkin roll. Nothing cures the baby blues more than a nice, sweet treat like a pumpkin roll! Sadly, I hadn't had a pumpkin roll since, but this fall, I really wanted to make one. It didn't seem too difficult, so I got to work, trying to find the perfect recipe.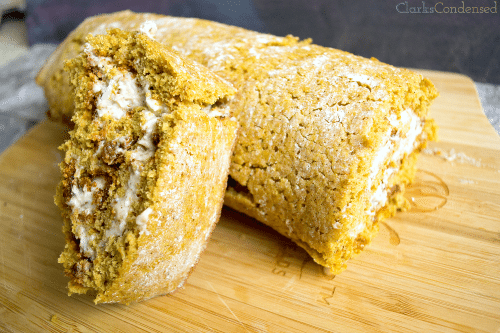 It turns out that there are
a lot
of pumpkin roll recipes. Some of them feature walnuts or pecans, others have random spices in them. In the end, I decided to base my recipe off of this
recipe from Libby
, and made adjustments from there. I had bought a bag of Hershey's cinnamon chips at the store recently, and thought it would be a fun twist to add those to the batter, and instead of just using the typical cream cheese frosting I found in countless recipes, I added brown sugar and pecans! And, I also added a bit of cardamom — one of our favorite spices! It is definitely optional (it's a pricier spice) but I definitely thing it adds a delicious kick. Altogether, I feel like the changes I made, made this a very unique pumpkin roll, that is absolutely delicious! So, if you are thinking about making another dessert beyond pie for Thanksgiving (or even Christmas) I
know
this pumpkin roll will be a huge hit!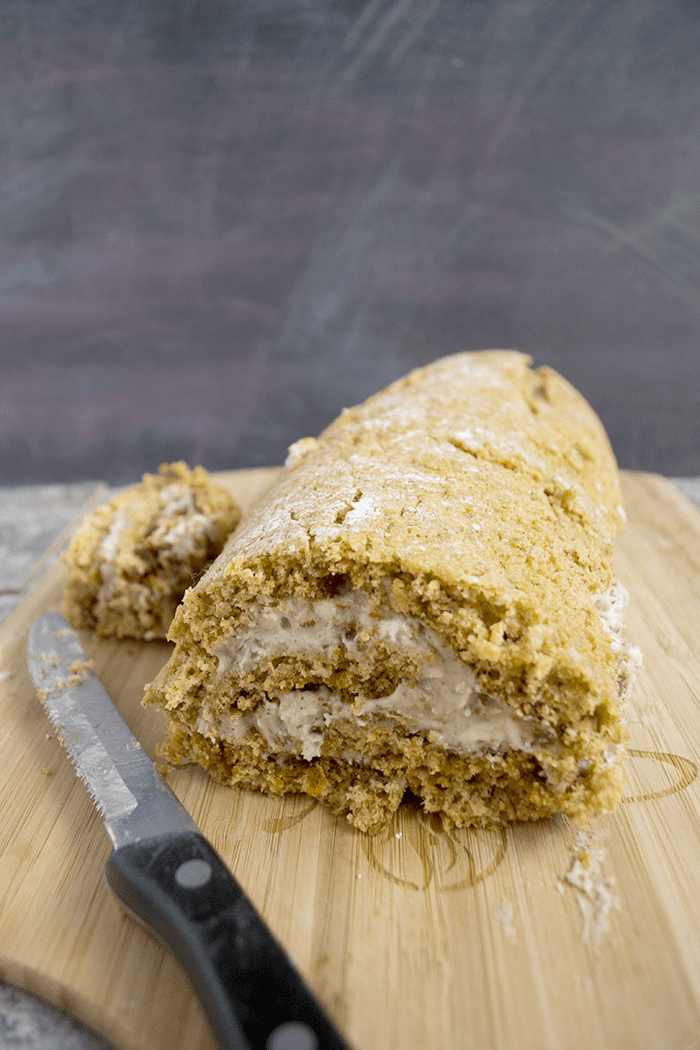 A few notes
If you are using wax paper, make sure to coat it well with cooking spray. However, if you have non-stick parchment paper, don't worry about it!
My mom made a pumpkin roll today at sea level, and it burned! Be sure to adjust this recipe for your altitude. I live at a high altitude, so it definitely may cook differently other places.
Use a very thin tea towel when rolling up the pumpkin roll. I used a thick, kitchen towel, and I had a very hard time unrolling it and removing the towel without breaking it!
Be very, very careful as you unroll your pumpkin roll. And if it breaks in pieces, don't worry — it can still turn out to be really delicious.
When my mom made this for us, we stored it in the freezer. However, you can easily store it in the refrigerator as well.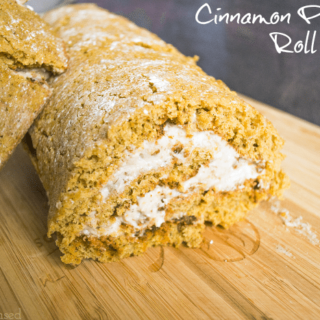 Cinnamon Pumpkin Roll
Yield: 1 pumpkin roll (8 servings)
Ingredients
Pumpkin Roll
3 large eggs
1 cup white sugar
2/3 cup canned pumpkin puree, not pumpkin pie mix
3/4 cup flour
1 teaspoon baking powder
1/2 teaspoon salt
1/2 teaspoon ginger
1 teaspoon cinnamon
1 teaspoon nutmeg
1/4 teaspoon cardamom, optional
3/4 cup Hershey's cinnamon chips
Frosting
8 ounces cream cheese, at room temperature
1 cup powdered sugar
6 tablespoons butter, softened
1 teaspoon vanilla extract
1 tablespoon brown sugar
1/2 cup chopped pecans
Powdered sugar for decoration
Instructions
Pumpkin Roll
Preheat oven to 375 degrees.
Place a piece of wax paper on a 15x10 inch jelly roll pan. Grease the piece of wax paper well (alternatively, you can use parchment paper and not grease it.)
In a large mixing bowl, combine together eggs, sugar, and pumpkin puree. Mix well.
Add in flour, baking powder, salt, cinnamon, ginger, nutmeg, and cardamom.
Fold in cinnamon chips.
Carefully pour batter into the prepared baking sheet using a rubber spatula. Cinnamon chips may stick to the bowl; just gently make sure they get mixed in!
Bake for 13-15 minutes, or until the cake bounces back when you gently touch it. If you are using a dark colored pan, start checking at 11 minutes.
Let cake sit for about 5 minutes in the pan. Then, place a tea towel, lightly dusted with powdered sugar, on top of the cake. Invert cake and tea towel onto a cooling rack.
Carefully peel off the wax paper.
Then, roll up the towel and pumpkin roll, starting with the narrow edge.
Let cool completely in refrigerator for about 15 minutes.
After cooled, gently unroll the pumpkin roll.
Spread cream cheese frosting, and re-roll.
Lightly dust with powdered sugar.
Refrigerate or freeze until ready to serve.
Frosting
Place cream cheese, powdered sugar, and butter into a bowl. Mix with an electric mixer until combined.
Add in remaining ingredients and mix until creamy.