Making our own popsicles at home is something the whole family can enjoy! Cherry Almond Yogurt Popsicles makes it easy to get the kids into the kitchen!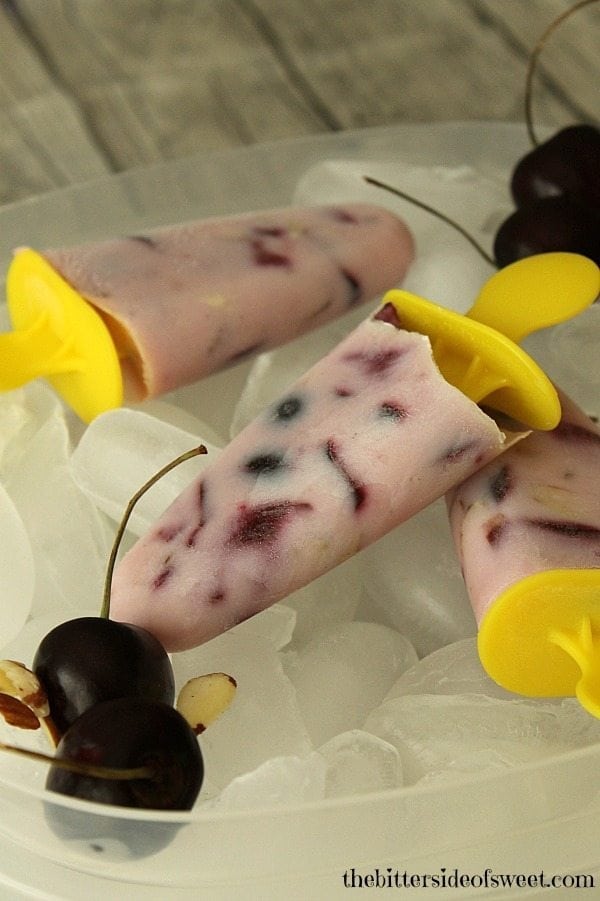 Hi Everyone! I'm Nancy from The Bitter Side of Sweet! I am so glad to join you today while Katie is out of town! OH, one thing about that! Today I actually get to meet Katie! So I am SUPER excited to be able to meet her and her family while they are traveling!
This summer the kids have decided they wanted to eat popsicles for breakfast and stay at my side all day long! Well obviously both of these things are not possible for them to do everyday.
I stay pretty busy around the house with house work, cooking and keeping a blog running and popsicles are not quite the healthiest things for them to eat first thing in the morning.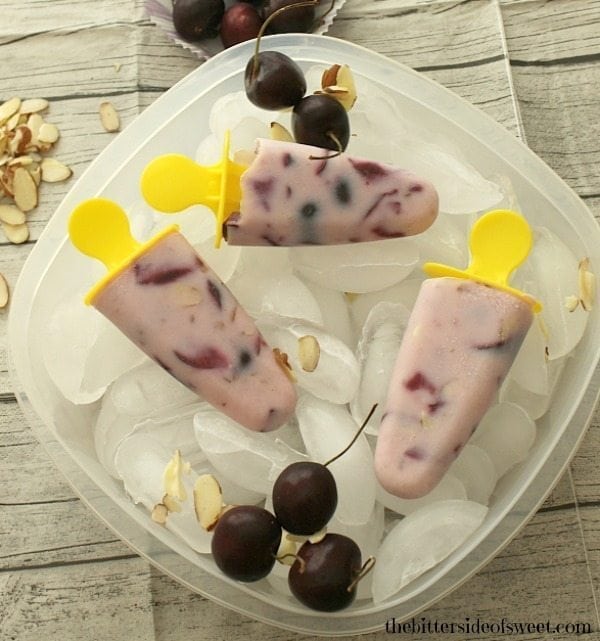 So we started making yogurt pops together and adding fresh fruits into them. This way I feel pretty good about giving them popsicles in the morning and while we make them together they feel like they are getting mommy time!
There are endless possibilities when making these! They enjoy so much getting out the molds, helping me think of a flavor to add to the yogurt and mixing and pouring. They do have to wait at least 4 hours for their pops to be ready but they have learned to be completely patient when it comes to that! The end result is always worth it! ENJOY!
Cherry Almond Yogurt Popsicles
Yield: 6
Prep Time: 10 minutes
Cook Time: 4 hours
Total Time: 4 hours 10 minutes
Quick easy popsicles made with fresh fruit and greek yogurt!
Ingredients
1 cup vanilla bean Greek yogurt
¼ cup milk
½ cup fresh cherries, pitted and diced
1/4 cup slivered almonds
6 2 oz popsicle molds
Instructions
In a large bowl stir the yogurt and milk together.
Stir in the cherries and almonds
Spoon into popsicles molds.
Freeze for 4 hours or overnight.