Disclaimer: I was given a free bottle of Mazola Corn Oil to use in a recipe, and I was not compensated in any other way.
I don't know if this is the norm for college campuses, but it seems like every other week, there is a Navajo taco stand in the middle of campus. I've always been tempted to get one, but a few things always stop me — first, most of the time, they only accept cash and I never carry cash. Second, they are rather pricey, and the dollar menu at Taco Bell inside the food court is far more fit for my budget.
Navajo tacos are always yummy, but I always felt somewhat intimidated about making them. It just seemed like a lot of work. But as I looked around, and really thought about it…I realized it's actually quite the simple dish!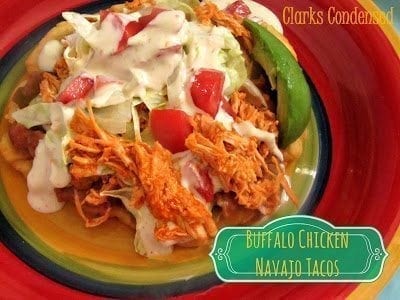 When I asked Forrest what kind of Navajo tacos he wanted, he suggested I make some with buffalo chicken. In all my Pinterest searching, I couldn't find a recipe like that, so I decided to make one up. So I loaded Jack up in my stroller (Forrest was at his internship with the car that day,) and walked to the grocery store. I perused the aisles until I found all the perfect ingredients.
We made this on Sunday, and since I did the chicken in the crock pot, it was only a matter of cutting up veggies and frying the fry bread. So easy. And I don't know about you, but I love the smell of buffalo chicken. It was definitely a wonderful smell to come home to.
So moral of the story — don't be afraid of making these! It's so easy, and I think it would be a really easy and fun idea for a party. Perhaps we'll make them for our graduation in April.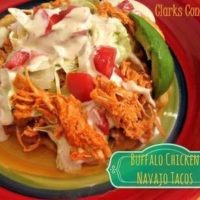 Buffalo Chicken Navajo Tacos
Ingredients
Fry Bread:
1 1/2 cup flour
1/4 tsp salt
1 1/4 tsp powdered milk
1 1/2 tsp baking powder
3/4 cup water
Vegetable Oil, for frying
For Chicken
4 chicken breasts
1/2 bottle Frank's Buffalo Sauce
Toppings:
Diced Tomatoes
Avocado
Shredded lettuce
Shredded cheese
Wishbone Avocado Ranch Dressing
1 can refried beans
1 can of green chiles
Instructions
Prepare chicken with desired method (if by crock pot and cooking them frozen, four hours on high was perfect. Pour sauce over chicken, and you're good to go.) Once chicken is prepared, shred and keep warm.
To make the fry bread, first mix together flour, salt, powdered milk, and baking powder. Once combined, pour water over the top and stir with a fork until everything starts to be combined into a lumpy ball. Making sure to first flour your hands, mix the dough by hand into a ball. Do not knead, just mix. After this, break into four pieces. Flatten until they are about 5-7 inches across.
Heat vegetable oil in cast iron skillet or another deep frying pan. Make sure there is about one-inch of oil. Fry bread until browned on both sides, about three minutes on each side. Pat away excess grease with paper towel.
Mix together refried beans and green chiles and heat up on stove or in microwave. Prepare other toppings.
Assemble as desired, but the suggested order is fry bread, layer of refried bean mixture, chicken, lettuce, tomatoes, avocado, cheese, then dressing.
Fry bread would also be delicious with honey for dessert!
Notes
Fry bread recipe is for four pieces, but the rest of the recipe could easily serve six