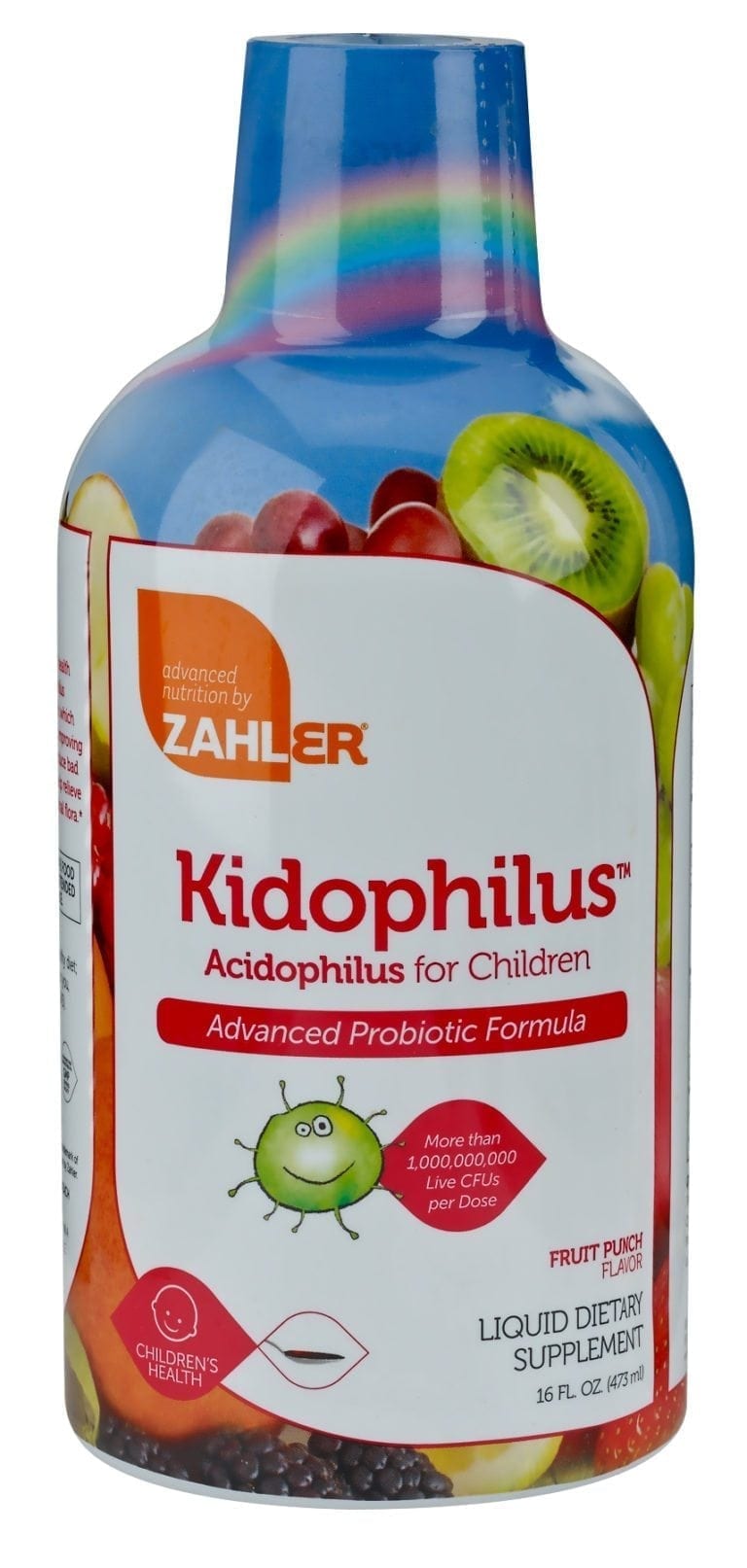 I was provided with a sample of this product – however, all opinions are 100% my own!
Most of you have probably heard of probiotics – especially if you've ever dealt with GI issues. Both Jack and I have been going to GIs for the past few years, and they are always emphasizing the need for a daily probiotic.
In case you haven't heard of probiotics, they are basically the good bacteria that you want in your body. It helps promote a healthy digestive system and digestive flora. There are a lot of probiotics out there, and they aren't all worth buying.
We recently were asked to try out Zaher's Kidophilus. It's a liquid probiotic that was created specifically for children. If you have children, you know that getting them to take medicines and supplements can be somewhat difficult. Jack is usually pretty good about taking his medicine, but as he's gotten older, he's become a little bit more particular with the taste of it. Fortunately, Zaher's tastes great. Jack told us that he thought it tasted like apple slices and oranges. Sounds like a winning combination to me!
Even though it tastes good (according to Jack – I didn't try it), there's only 1 g of sugar per serving. Excess sugar in medications and supplements is always a worry to me, so it's nice to see that this probiotic can taste good without having a ton of sugar.
We have tried several other kinds of probiotics, but Zaher's is most definitely the best price we've found. We have paid upwards of $50 for a probiotic before, and you can usually find Zaher's Kidophilus for about $20 (it's only 19.47 on Amazon right now!)
Even if your child doesn't have GI issues, if they ever take antibiotics, it's so important to rebuild the good bacteria right away, since antibiotics kill off the BAD and GOOD bacteria in the body. We believe a lot of Jack's issues stem from having a ton of antibiotics during his first year (due to chronic ear infections), and we didn't realize that we should have been giving him probiotics to help counteract the antibiotics. Kidophilus is particularly crafted to help children after having a course of antibiotics, and it can help counteract the growth of salmonella and prevent diarrhea, clear up yeast infections, help with digestion, and even bad breath.
Another plus is that it doesn't need to be refrigerated, like many probiotics do! I'm not sure if this product is as powerful as some other probiotics, as it only lists Lactobacillus Acidophilus in it, and it's good for a probiotic to have several different strands of bacteria in it. However, I think for a basic probiotic, it's a good product to start with.
Overall, I was impressed with this product. It's not overly expensive, it tastes good, and it seems to work well. If you are looking for a daily probiotic for your child, I would recommend looking into this one.