The WorkBox 3.0 from the Original Scrapbox Company changed my life! Here is an in-depth review about what I love (and don't love), and why you might want to consider one, too – as well as an exclusive coupon!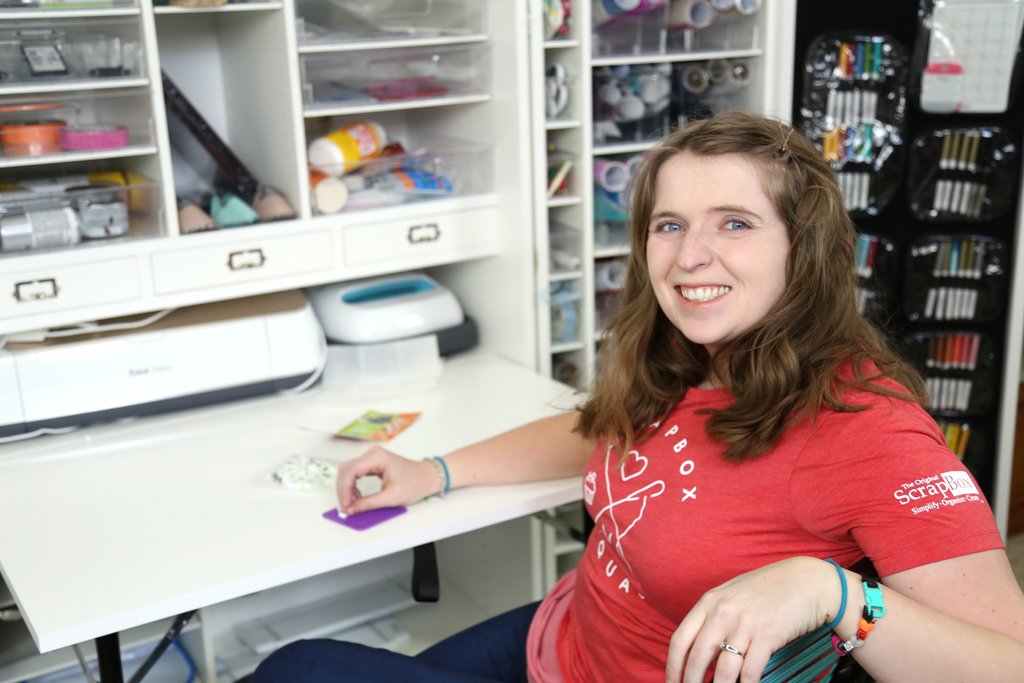 The Original Scrapbox Reviews
They often say creative people are disorganized.
And while I wouldn't say I'm the most creative person around – I certainly fit the bill when it comes to being disorganized.
Earlier this year, my office was in our spare bedroom. It really probably shouldn't have even been called an office – it was more of a storage area for all of the packages we got for blogging.
Most of which were crafting supplies.
I dreaded walking into that room because it was SUCH a disaster. Despite my mom coming over to help me organize it multiple times, nothing seemed to stick.
Because I do so many crafting and Cricut projects, at least once a week I would have to face the inevitable and walk into that room to wade through boxes and bags of supplies.
I definitely tripped more than once.
Then my mom tagged me in a video on Facebook with the comment, "You need one of these!".
It was a video of the WorkBox 3.0 from the Original Scrapbox.
CLICK HERE TO GET YOURS FOR $100 OFF WITH CODE CLARKS100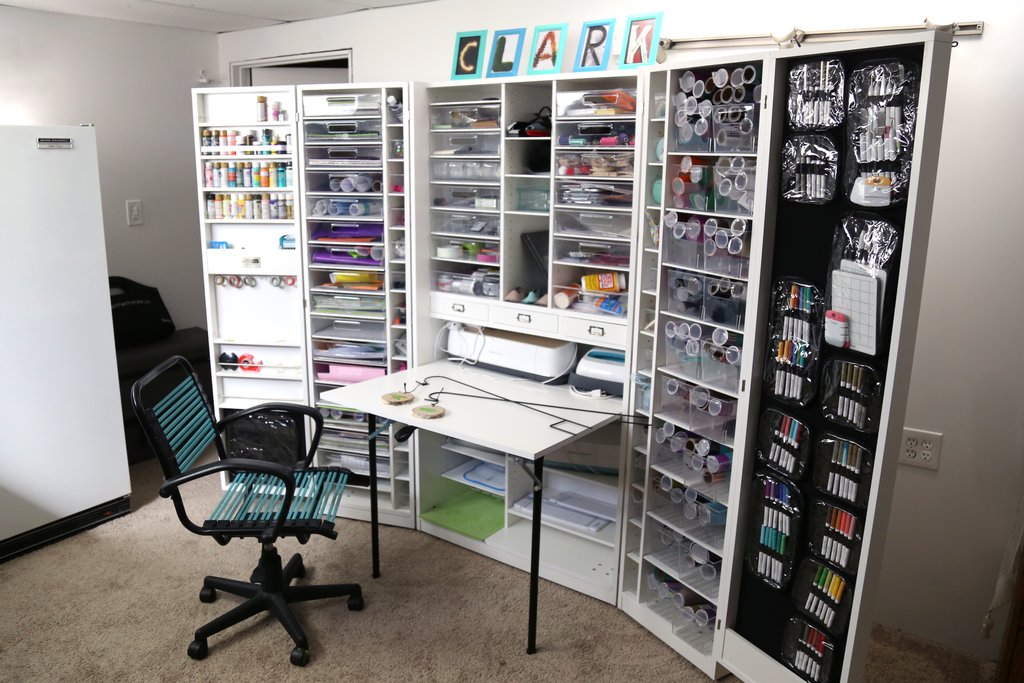 I watched in awe as this beautiful storage closet turned into the most incredible place to store craft supplies. And I knew that I had to have one.
I planned to save up to get one because I knew that it would be the answer to my organization woes. But then the stars aligned, and the company agreed to work with us as a part of their blogger program.
I could hardly wait for the pallet to arrive with my WorkBox 3.0. When I told my mom that we were going to get one, she was ecstatic! Besides Forrest, no one knows my troubles with the organization more than she does.
At the same time, we decided to move my office to the basement bedroom – it had more space, and it was off from the rest of the house, so I could feel like our business wasn't totally taking over our home. Everyone enjoys it – even my boys!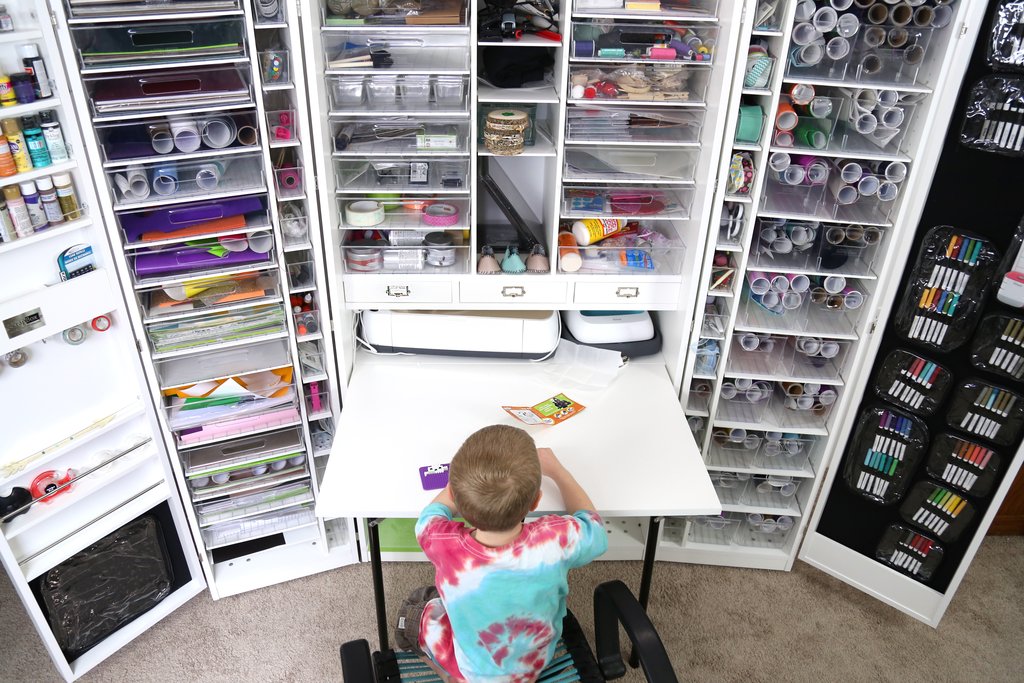 I've had the WorkBox 3.0 for about six months so, so I figured it was time I write a full review. Although I was sent the WorkBox 3.0, I promise you that my review is honest and full of my true feelings. I know that any of the furniture from The Original Scrapbox can be an investment – especially the WorkBox 3.0 – so I hope that this review will help you decide whether it's the right choice for you.
Oh, and here's a little video that The Original Scrapbox Company did of me with my WorkBox 3.0 🙂 It has a nice visual of what it looks like as well:
Have you heard of the NEW DreamBox? You can also get it for $100 off with our code CLARKS100.
The Original Scrapbox 3.0
Delivery
After our order was placed, our WorkBox 3.0 arrived within a couple of weeks. It came on a giant pallet in large boxes, so it was definitely not a small package.
Forrest brought all of the boxes downstairs, and he got to work putting together, which I will talk about next. The delivery was pretty seamless though – I think it's just important to know that it will be arriving on a pallet.
Setup
So, this is a huge piece of furniture, and all of the pieces are heavy. I would make sure you put the boxes exactly where you want to set up the WorkBox 3.0. If you don't, and you have to end up moving it, this will be a lot more difficult once it's put together.
It took Forrest an afternoon to put together the WorkBox 3.0. He was a little frustrated during the process because some of the pieces just didn't seem to go together as they should. He actually ended up damaging (just slightly) the WorkBox 3.0 as he was putting it together because some of the pieces didn't go together as they should. He did find the customer support team to be very helpful, so just make sure you give them a call if you are having trouble.
There are some people who have done videos online about how to put it together so that maybe something to look at while you are assembling. There are just a lot of components to the WorkBox 3.0, and you need to have realistic expectations about putting it together. It's definitely a process – and it might be easier if you have a friend helping you assemble.
After you assemble it, it is very easy to open and close. It's best if it's not on the carpet – I believe they recommend not using carpet if you can. But our office was carpeted, and we weren't about to change the flooring just for this 🙂 It sometimes takes a little more "oomph" to open it, but I'm pretty weak, and I can do it pretty easily.
Storage
So obviously, this is storage furniture – and you are probably wanting to know how it does!
There are so many nooks and crannies to the WorkBox 3.0, and you can really customize it to your needs. It comes with lots of plastic storage boxes that you can put on shelves, plastic zipper bags that you can velcro to one of the walls, and lots of hooks and little drawers and shelves.
The shelves can be adjusted to be of different sizes. For our WorkBox 3.0, we made lots of shelves using the wooden dividers, and then we used the plastic containers that came to slip into them easily.
The WorkBox 3.0 has a handy little table that folds down when you open it. This is great for crafting, putting my Cricut machines or EasyPress machines, etc. I usually store my Cricut machines in the little compartment directly behind the table.
There are just so many shelves and drawers and places to put things, and I love how customizable everything is to your preferences.
Cons
There aren't a lot of things I dislike about the WorkBox 3.0. For the most part, it really does everything I need it to. But any good review will share the cons of a product, so here are a few things that stood out to me:
Assembly wasn't super easy. They do offer an option where it can come preassembled, so that maybe something to consider if you can afford it.
A lot of my crafting supplies are Cricut vinyl, foil, etc., and these are often on rolls. The drawers are just *slightly* to small for me to fit these into them comfortably, so I don't feel like I can fit as many rolls as I would like in some of the drawers. With that said, I can still fit about five rolls into one of the little buckets – they just don't lay down nicely. I wish there was just maybe an inch more of space available.
Price – obviously, these are expensive pieces of furniture. I do believe the cost is justified, just based on the quality and what it offers, but with it being more expensive, it does make it harder for most people to buy.
Quality
I really have no complaints about the quality. The craftsmanship appears to be pretty sound, and it looks really nice. It definitely doesn't look like a cheap piece of furniture. Everything opens and closes really well.
What's Included?
As I already mentioned, your WorkBox 3.0 will arrive on a pallet and comes with all the pieces you need to assemble it. Here are the accessories that come with it:
33 Large Clear Totes (12 5/8″W x 12 1/2″L x 3″H).
20 Shoebox Clear Totes with 2 removable dividers each (5.5″W x 12″L x 4.5″H).
26 Notions Totes with 3 removable dividers each (2.3″W x 12″L x 3″H).
5 Plastic Notions Tray Inserts included for large totes.
Zipper Plastic Pouches – 1 Large Pouch (13″L x 13"W). 4 Medium Pouches (13″L x 6″W). 8 Small Pouches (6″L x 6″W).
Options
There are several different color options that you can get the WorkBox 3.0 in:
White Raised Panel
White Beadboard
White Ergo
Black Raised Panel
Black Beadboard
Chocolate Knotty Alder
Knotty Alder
You can also add a crown molding top, which I think looks really nice.
The WorkBox 3.0 also has lots of additional accessories you can buy as you see fit, which you can see here. Here are a couple that stood out to me:
WorkBox 3.0 versus DreamBox
The DreamBox is the latest from the Original Scrapbox, so you might be wondering what the difference is!
Here are a few things to consider:
50% more table space 
New standing height option 
New exterior style options – shaker style doors and new door handles
50% more storage space in swing doors + more customizable shelving
The table can fold both down AND up (more accessibility to items underneath)
Deeper spaces underneath the table – fits the ScrapBox clear totes
Larger storage spaces for taller machines
Here is a video:
Price
The cost of the WorkBox 3.0 is $1,995. If you want to add crown molding, it is an additional $299. They do have payment plans available. Delivery can be within 2-6 weeks, depending on the time of year and demand. There is also a two-year warranty included with every purchase. Shipping is not included, and it will depend on weight and location – read more here.
Coupon Code
While there are not always going to be coupon codes available here, I promise to always share the best ones that I've been given the authorization to share.
The current coupon code I can offer is CLARKS100 for $100 the DreamBox, the Ultimate Sewing Box, and the WorkBox 3.0!
Other Options
The WorkBox 3.0 is definitely one of the most expensive options from The Original Scrapbox – so I know it may be out of reach for many people (or you may have to save up for a while for it). And that's okay. Anyone who has been reading our blog for any period of time will know that we never advocate for buying something outside your means. I definitely think it's worth the money if you can afford it, just because it was such an answer to my prayers.
But if it's just not within your budget right now, they do offer some other great products on their website. Here are a few that are a little bit less expensive that you may like:
And perhaps you aren't sure if the WorkBox 3.0 is right for you- you may want to look into their Ultimate Sewing Box.
Final Thoughts
Overall, I really am a big believer in the WorkBox 3.0. It truly transformed my office – and it just made me feel less miserable walking into my office. It's probably not as organized and beautiful as some people's WorkBox 3.0s look, but it has absolutely helped me to be more organized. I can easily find what I'm looking for, and I just love having it. I can't tell you enough how much I love this!
Here I am using it in action: