Voila Mattress Review
Voila! Before You Know It You're Sleeping Like a Baby On Your New Mattress! Now That's Comfort! Get 10% off with the Voila Mattress Coupon SLEEPWELL10
Sad to say but our guest room was not the most sought-after place to stay in town. Except by our grandkids, but that's a different story. Why then? The bed was only a full-size and when most of your guests come with two-full-size people that can get a bit squishy at times.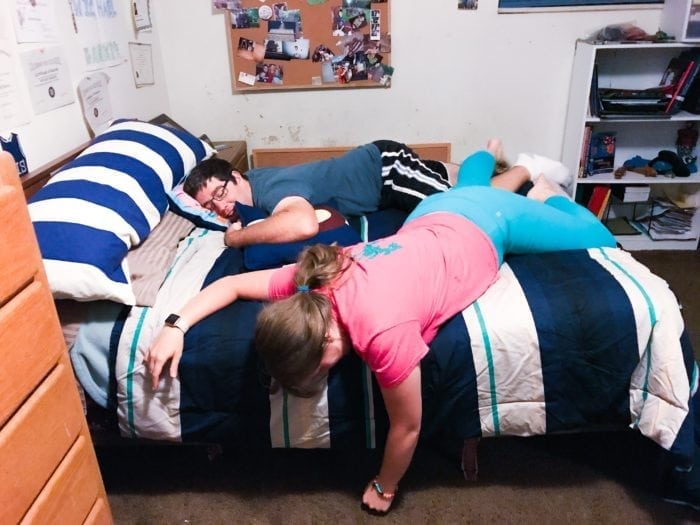 (Imagine a baby or toddler in there as well!)
So when we were given the opportunity to try out a brand new queen size mattress we were delighted. (We received this new mattress from Voila in exchange for writing an honest review about it).
In times past people would sleep on straw, leaves or grass which were sometimes covered with animal skins or furs. This provided a degree of cushioning from the hard ground, but it could still be full of insects and disease. Ick! Adding to the discomfort, entire families slept in the same space together. Our small guest room, separate from the rest of the house, would have been considered a great luxury!
Over time, as civilization progressed, cotton sacks stuffed with grass, straw, leaves, grain, wool, feathers, etc. came into use. In other places, some cultures slept on woven mats, and nomadic peoples in Persia filled goatskin bags with water. They would leave these outside in the daytime to absorb the heat from the sun; when night came, they provided not only cushioning but warmth as well. The original water beds? (See sleepsatisfaction.com )
Most of us probably grew up sleeping on a coil-spring mattress–remember how you could occasionally feel a stray spring poking into your back as the mattress began to wear out? Water beds eliminated that possibility and were all the rage when Bruce and I got married almost 40 years ago. The downside of course was the occasional water leaks that came with water bed mattresses. We remember those days.
Then came memory foam! Soon manufacturers began replacing coil springs with pure memory foam mattresses. They learned they could compress and roll these up, making it possible to send mattresses through the mail. Although these were less expensive, they did not offer the same support and longevity of previous mattresses.
Voila is re-evolving the boxed mattress industry, by manufacturing quality mattresses that can still be compressed, rolled up, and put into a box to be shipped directly to a customer.
It is hard to believe a mattress that is only several inches thick right out of the box can expand to twelve inches high. Watch this video of my son-in-law Forrest, assisted by several grandchildren, unpacking the mattress that was delivered to my home:
After unpacking, just allow two to four hours for your mattress to fully expand. The mattress below is covered in a waterproof mattress pad that I ordered separately.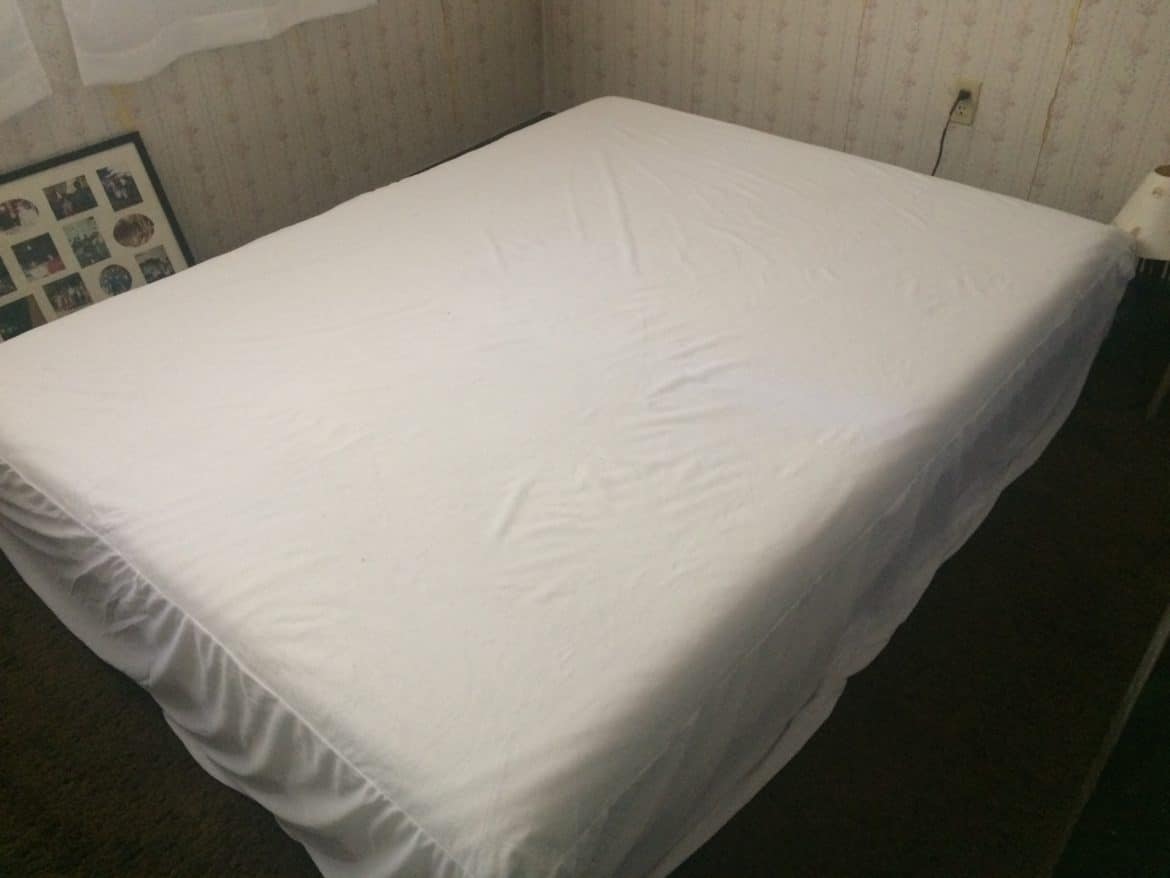 Voila's 12-layer composition includes support foam, memory foam, gel-infused memory foam, and a layer of latex foam for comfort and durability. Each layer offers you more support and comfort. As an added bonus, porous, high-end mesh fabric and gel-infused memory foam will keep you comfortably cool all night. I don't know how all these different types of foam work together to create the perfect comfort level, but Bruce and I both slept soundly through the night on our new mattress.
Voila mattresses also include 768 individually pocketed coils in five different zones to absorb motion transfer and provide multiple support point across your body. These pocket coils are surrounded by triple layer side support that keep you feeling like you're sleeping "in" your mattress instead of just "on" your mattress for ultimate comfort and support.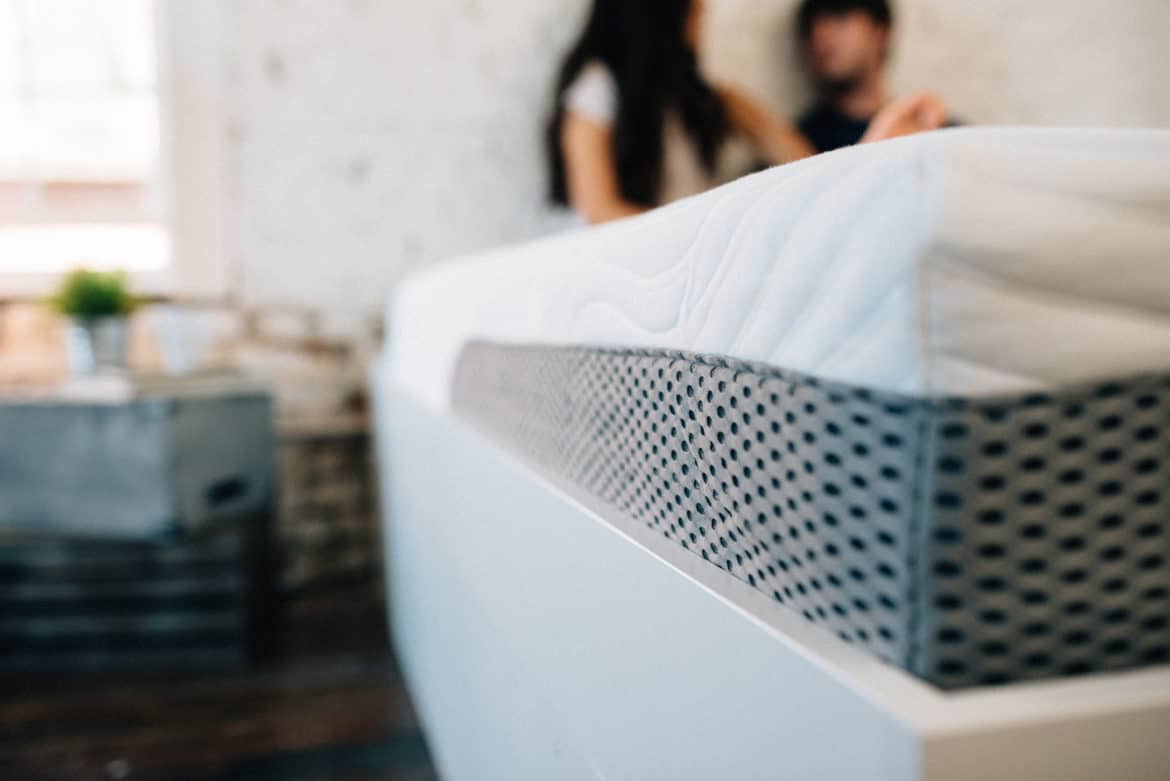 Voila is an online company that offers personal, accessible service. They advertise high-end mattresses at affordable prices, free home delivery, three levels of firmness, a 100-day comfort guarantee, and a 10-year warranty. Their website (voilabox.com) also has online-chat support as well as customer service reps available by phone or email.
The Voila mattress is made from the same high quality luxury materials that you find in a quality showroom, but for a third or sometimes a quarter of the cost. Twin beds start at $699 per mattress, with the King and California King costing $1499 each. Other choices include Twin XL, Full/Double, and Queen.
Voila mattresses do not need to be used with a box spring, but can be. They can also be placed on a platform bed frame, or directly on the floor.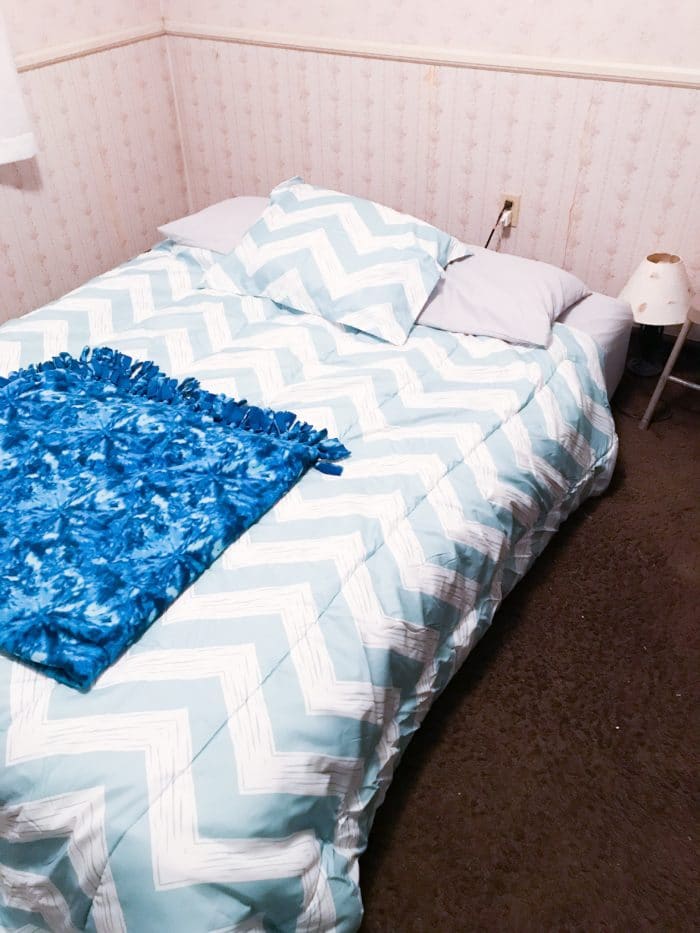 We haven't had time to find the perfect frame for out mattress yet, so it is still on the floor. Both Bruce and I had a comfortable night's sleep but are definitely looking forward to finding the right frame for it.
We are mainly excited to have a comfortable bed for our guests. We have had a few of our children politely mention the fact that they weren't super comfortable on the previous bed. I don't think we will be getting any of those comments anymore!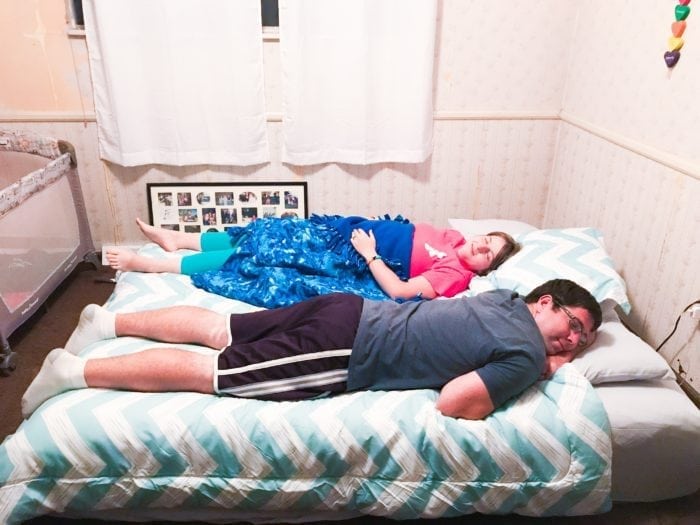 Despite the quality and comfort of a Voila mattress, it can still be difficult to make a decision based off a picture found online. The 100-day comfort guarantee helps eliminate much of that worry. If you don't like your mattress within 100 nights, you can either request a return or an exchange.
We'll definitely be keeping ours. As you can see our grand kids are certainly enjoying it!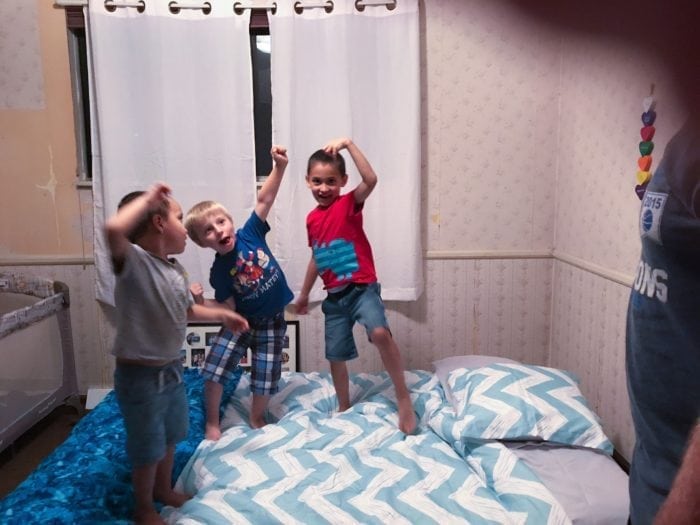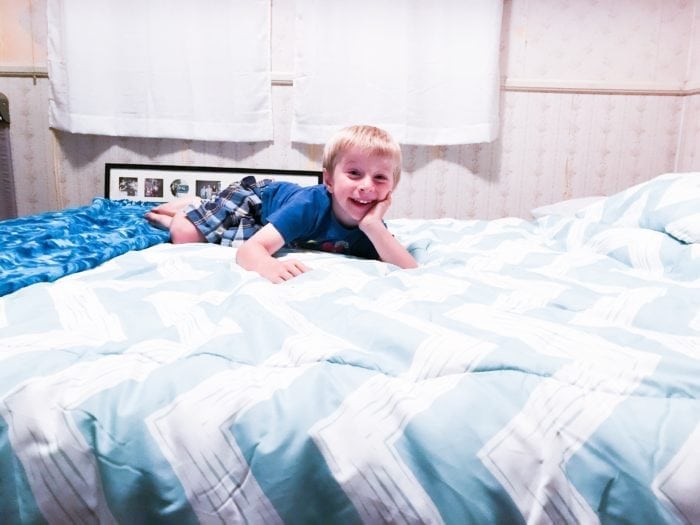 If you love outstanding support with a touch of cushioning, the
Voila
is the mattress for you. With three different comfort levels, ranging from plush to medium to firm, these 10″ to 12″ mattresses offer modernized sleep technology for ultimate comfort and suppport. Considered a hybrid mattress, it is the perfect mix between memory foam and coil springs. To learn more about the 12 layer composition, 100 day comfort guarantee, and to choose the mattress most likely to give you an unconditional good night's sleep visit voilabox.com. We are loving ours!