Rastelli's is a meat delivery service that provides high-quality cuts of beef, steak, and seafood straight to your door. Here is our review of our experience, a coupon code, and a comparison to another meat delivery service we have used!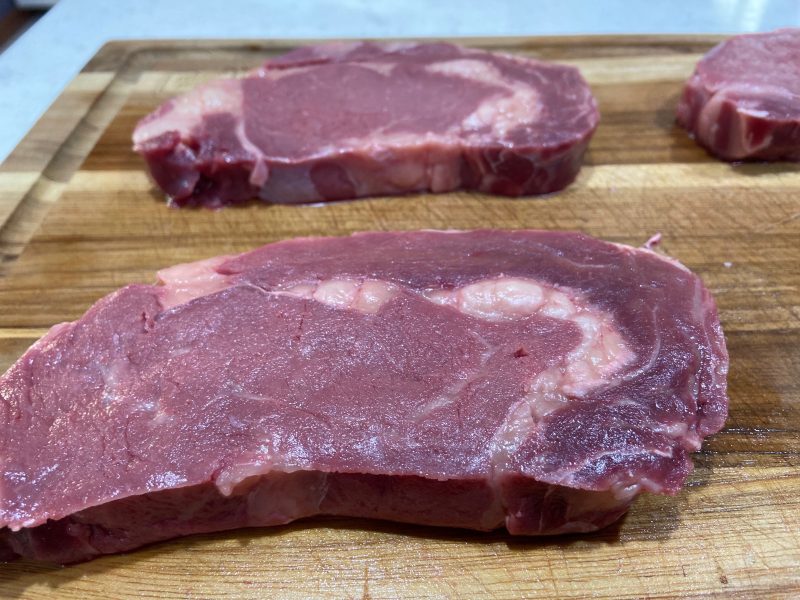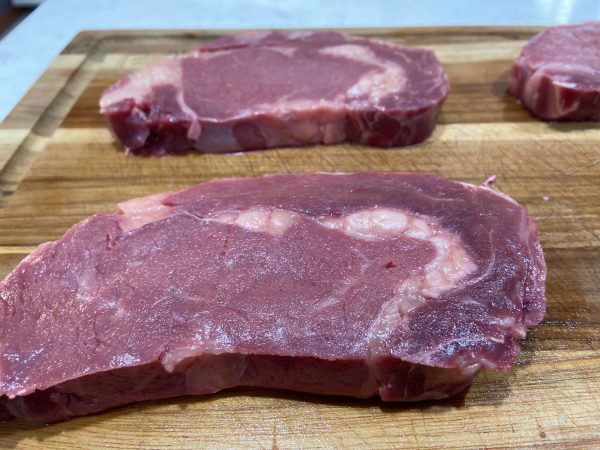 Meat Delivery Service
We love a good cut of meat around here, and it seems like we can't always find the best quality at our local grocery store.
Food delivery services are becoming more and more popular – and I think it can be one of the best ways to get high qualities cuts of meat, chicken, and fish.
Awhile back, we reviewed Butcher Box. While we liked it overall, there were some issues with the packaging and overall service – and if you read the comments on our Butcher Box review, you'll find a fair amount of unhappy people.
Overall, we enjoyed the meat, though, and the convenience of it being sent to us, but it wasn't something we've continued to get.
So when another meat delivery company reached out to me, I was excited to give them a shot.
Rastelli's has one goal in mind – to deliver clean, responsibly raise and delicious meat to their customers.
They take great pride in selecting only the highest-quality cuts of meat from the best farms across America – and delivering it straight to the consumer's kitchen.
Rastelli's has been around for two generations, and while their market has certainly changed, their commitment to making high-quality meat accessible still stands.
Over the past year, I have really been trying to be a little more selective about the foods I feed my children. While we certainly aren't perfect, when I can get a better product, I do.
So when Rastelli's offered to send us some of their products to try out, I quickly jumped on board.
We've been able to try a variety of what they offer, and I wanted to share a bit about how they work and what we thought of the meat.
Butcher Box Alternative
How it Works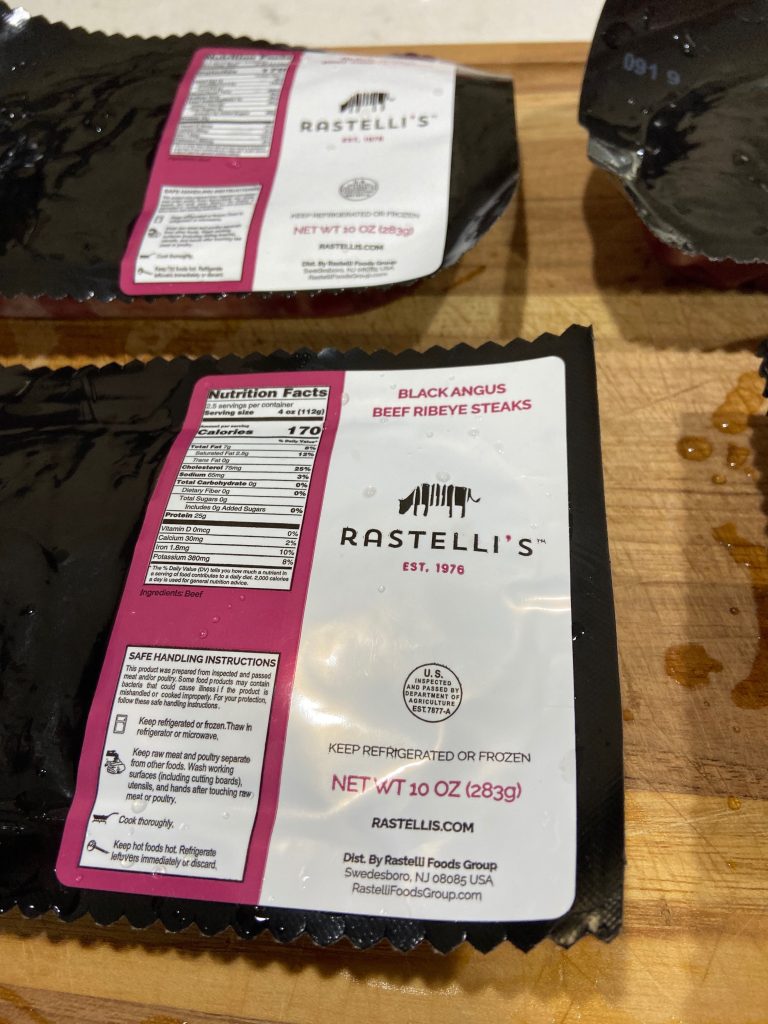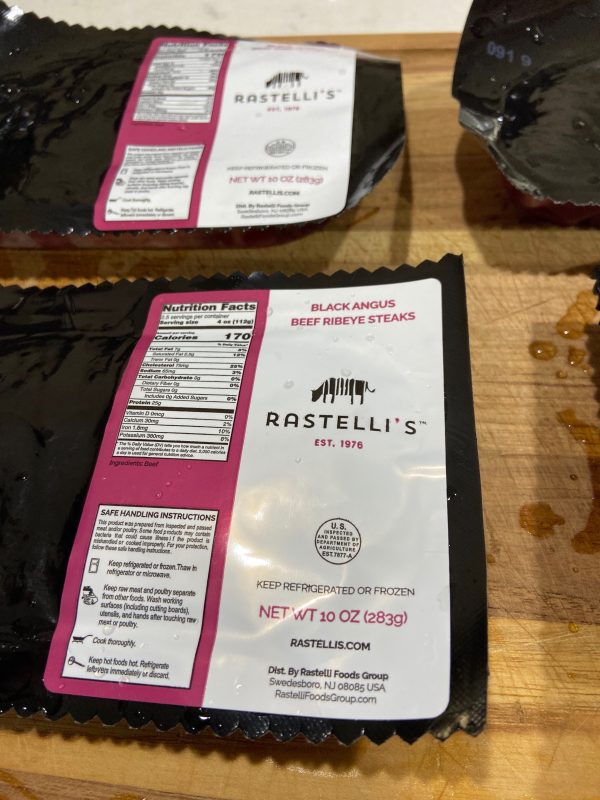 It's really easy to use Rastelli's. The process to select a box and checkout on their website wasn't confusing, and I felt like I could easily customize my order if I wanted to.
First of all, Rastelli's has different base plans. These contain several of their "core products" (such as chicken, ground beef, etc.), so you can select which one has the staples you use the most. Here are the base plans they currently offer:
. These contain several of their "core products" (such as chicken, ground beef, etc.), so you can select which one has the staples you use the most. Here are the base plans they currently offer:
Beef
Seafood
Chicken
Specialty
Each of these categories has different cuts of meat to select from, which is really nice!
They are specifically designed to be simple so you aren't getting products you won't use. However, they have lots of great add-ons that you can add to your order, which makes it nice if you need something a little different once in a while.
They don't require any kind of subscription or commitment, which I LOVE. I hate when companies try and lock you into something for a long period of time.
However, if you love their products, you can have it set up a subscription, which gives you a 10% discount.
After you place your order, they cut and package everything and then send it straight to your door. I love that everything is individually packaged – you don't have to do anything but put it in your freezer when it arrives.
I was very impressed with the box when it arrived. Everything was packaged well and nothing was leaking.
Prices
The price will obviously depend on what kind of meat you are getting, if you choose any add-ons, and if you do a subscription.
As I already mentioned, if you do a subscription, you will get an additional 10% off. Below, I will be sharing prices from some of the base packages for meats that I think people are most likely to use on a regular basis. This is based on the NON-subscription based prices
These are also their non-antibiotic meats, but not their organic offerings.
Their Chicken and Beef plan is $99, which includes 16 servings and ends up being $6.19 per serving. It includes:
32 ounces of ground beef (in two containers)
4 6 ounce sirloin steaks
6 6 ounce chicken breasts
Another plan I looked at was their chicken box. This is $89, and it is $4.68 per serving. It includes:
1 10 ounce package ground chicken
2 16 ounce package of chicken thighs
10 5 ounce antibiotic chicken strips
I think the prices are pretty comparable to what you'd find at the grocery store for similar quality.
I tried to do a comparison with Butcher Box, but there weren't any boxes that could be directly compared. Butcher Box (at least, when I did my review) was pretty steadily about $5.38 per meal.
I do wish that they offered just a ground beef and chicken box. We don't eat steak a lot, but it seemed like anything that had both ground beef and chicken included steak as well.
Rastelli's Coupon
I have arranged a limited time coupon to help you try out Rastelli's. Here are the details:
CLARKS15
$15.00 off entire order
For New customers
One use per customer
Active from today until Jan 1, 2020
Is Rastelli's Organic?
All of the meat they send to customers is responsibly raised and antibiotic-free.
However, not all plans are inherently organic. They do have organic options, though, so if that's important to you, it's nice that they have the option.
Our Experience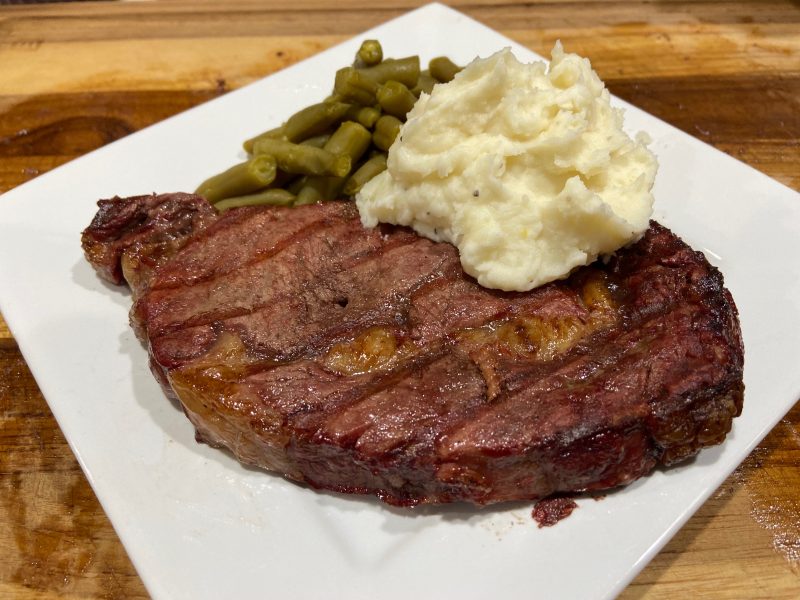 We got the steak and salmon plan, which was fun, because those are products we don't always buy.
The checkout process was simple, and our order was shipped quickly. It was $169, which included:
4 6 ounce sirloin steaks
4 10 ounce Ribeyes
8 Faroe Island Salmon Filets
That comes out to be about $10.56 per serving – if you are on a subscription, the price would be 10% less.
Because these are pretty high-quality cuts of meat and salmon, I would say that's a pretty fair price.
Anyways, we tried the salmon first. I'll admit that I'm not a big fish eater, but I do love salmon when it's cooked well.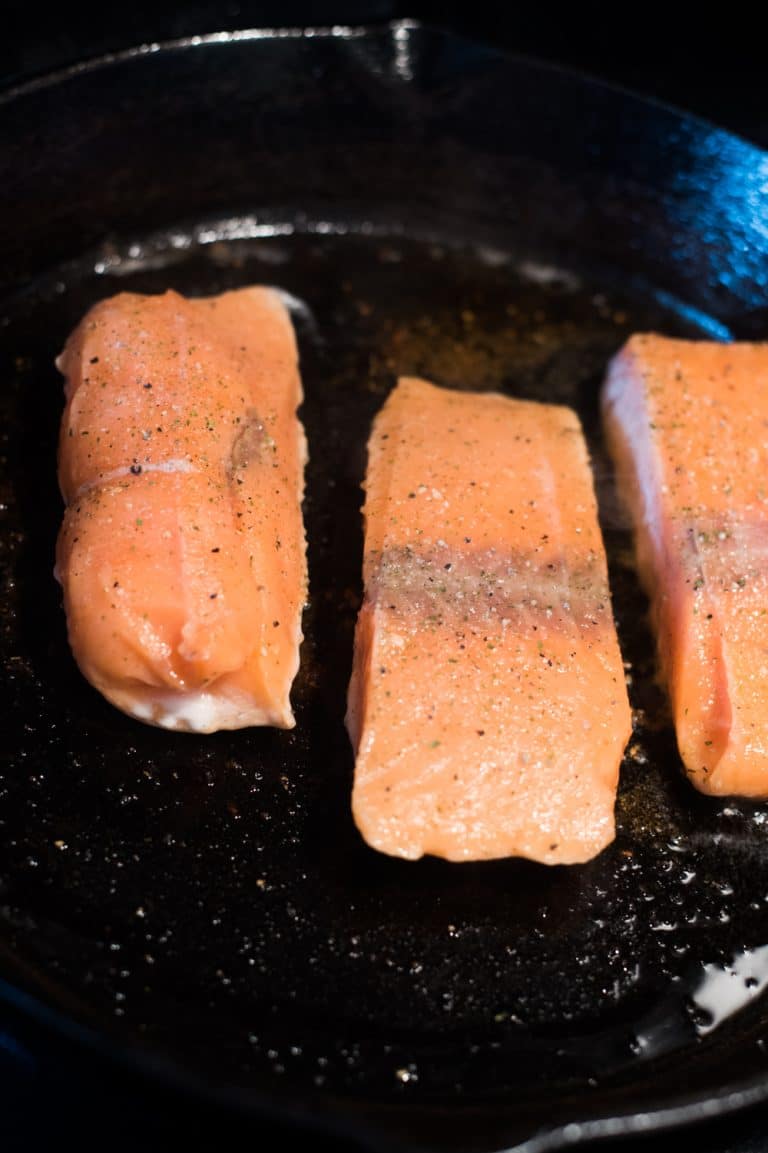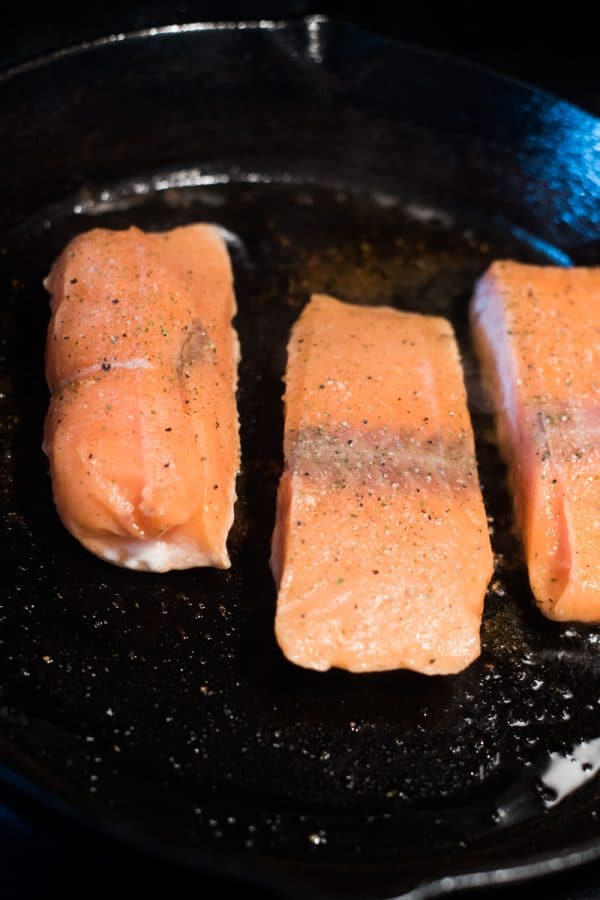 The salmon was plump and pink, and it cooked up beautifully in my cast iron skillet.
One thing I highly recommend investing in is a good meat thermometer. When you are paying a premium for a higher-quality cut of meat…you want it to be perfect.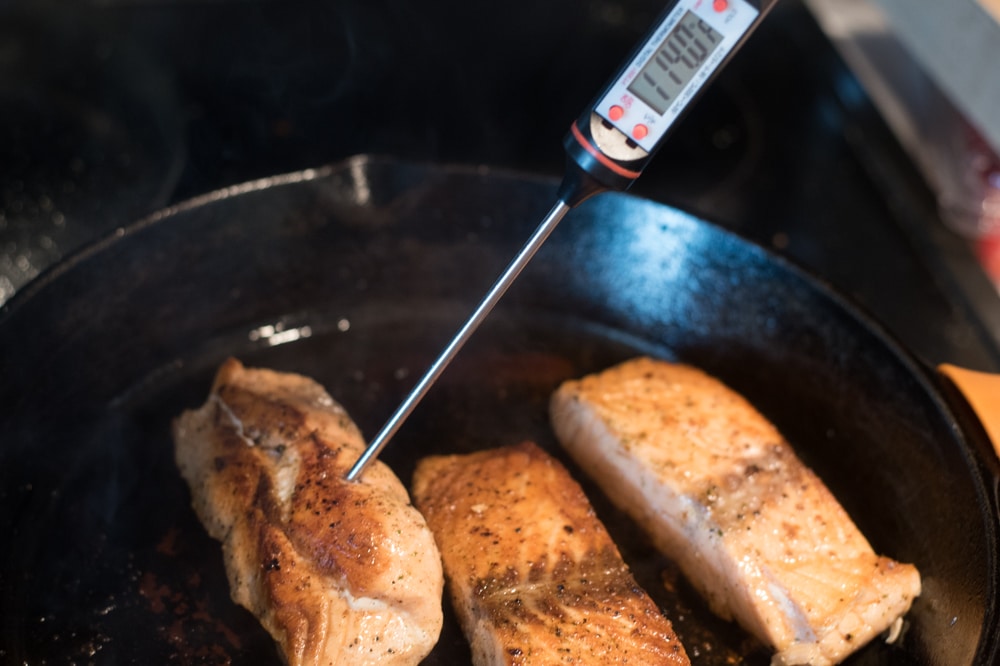 I could definitely taste a difference from the salmon I would typically buy at my grocery store.
As far as the steak goes, Forrest cooked them for him, my dad, and my brother one night when I was going out with my mom and sister-in-law.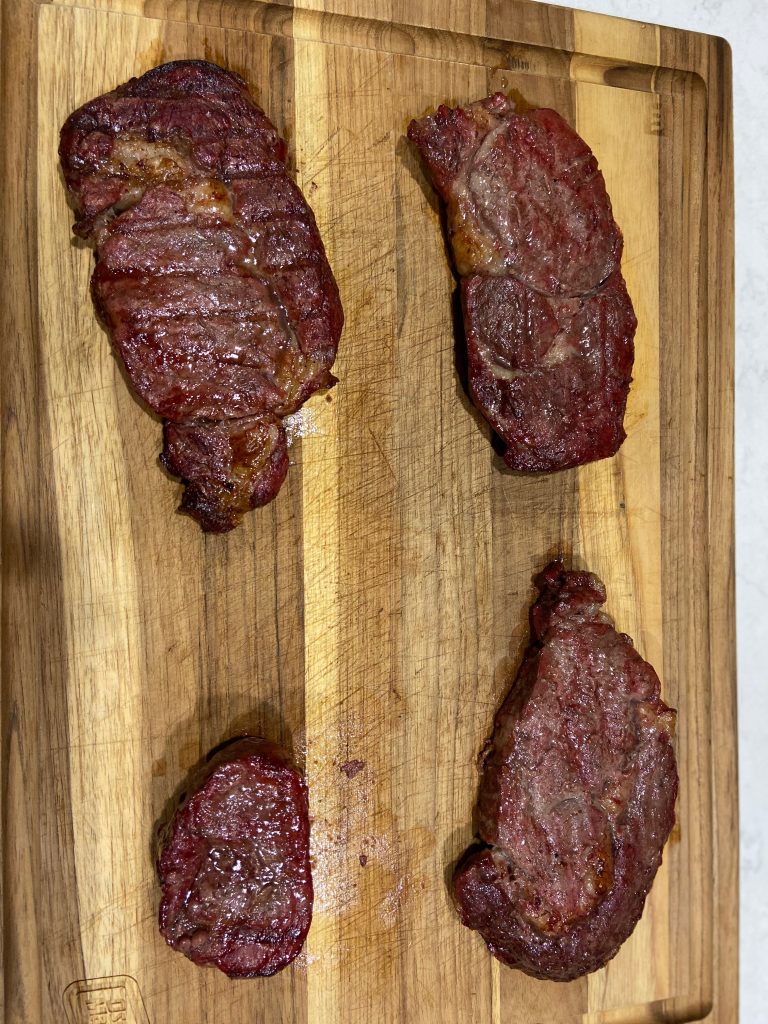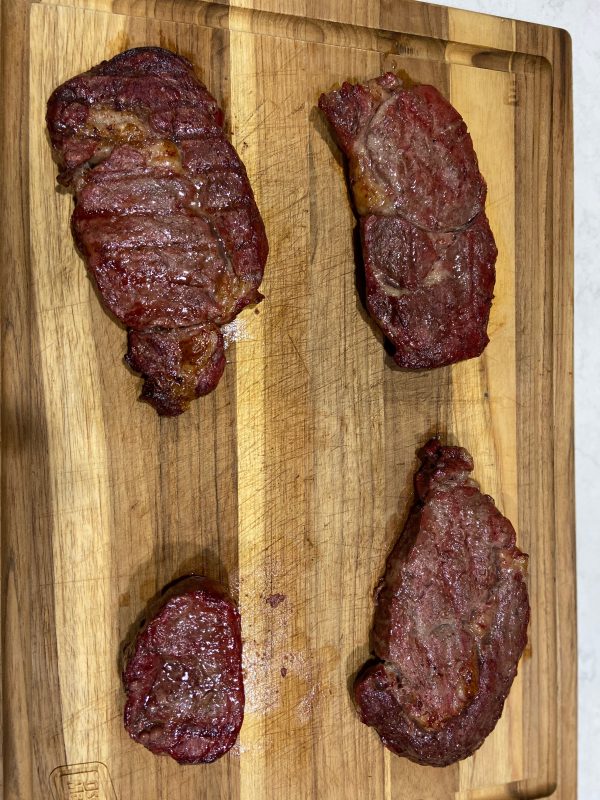 I asked him to share his thoughts, and this is what he said:
"I thought that they were sealed well. No signs of freezer burn. They were still juicy. I thought my steak was delicious, and Daniel and Dad like theirs. My steak was soft and juicy."
They had been in the refrigerator since early August, which is why he referenced the freezer burn thing. We've dealt with our fair share of freezer-burned meat (even within just a few weeks of freezing it), so Rastelli's definitely passes that test.
Overall, we were very pleased with what we got. I would like to try a box with some of the less fancy cuts of meat, since that's what we use on a more regular basis and would be more likely to replace with Rastelli's.
Pros
Meats are high-quality
They cooked up well, even after being in the freezer for a few months
Takes the guesswork out of selecting meat from the store. Even when you go to the store, there's no guarantee that it's the best cut from the batch, even when it's a more natural cut.
They personally select the best quality cuts to send you
Family-owned company
Everything is individually wrapped and sealed – you just have to put them in the freezer
No month-to-month contract
Organic options
Cons
Although I think the prices are pretty comparable to similar cuts of meat from the grocery store that are of similar quality, it is more expensive than buying just "regular" meat. So if you aren't used to buying the better meat from the store, it can be a bit of sticker stock.
You have to wait for it to arrive. So if you run out of ground beef, you can't just run to the store to pick up some more of what they have – you have to wait for it to arrive.
The base plans don't have any that are just ground beef and chicken. HOWEVER, with the add-ons, you could try and create one that is more similar to what you would buy at the store.
I don't think they have bacon!
Rastelli's Versus Butcher Box
Overall, I think the quality of the meat from both companies – as well as the prices – are pretty similar.
However, I do feel like Rastelli's is a little easier to navigate, and I just think they are a really good company. I think some of the meat may be a *little* bit cheaper, and I appreciate that you get a discount for having a subscription.
I also like that they don't require you be on a subscription. Butcher Box does have a subscription – though they allow you to "freeze" your plan if you need to.
I think Butcher Box may offer a few more extras that I saw, such as bacon, and they always have some big promotion going on (like right now you can get a Turkey). Rastelli's may do these as well, but I haven't been following them long enough to see.
I think a lot of it just comes down to what you are wanting to order, what "extras" you want, and, inevitably, the pricing.
Although I didn't have issues with Butcher Box, we get a lot of comments on our post with complaints. I haven't seen complaints about Rastelli's, so if you've felt frustrated with Butcher Box, it's definitely worth trying. We had zero reason to complain, and the meat was great.