The reviewer has been compensated in the form of a Best Buy Gift Card and/or received the product/service at a reduced price or for free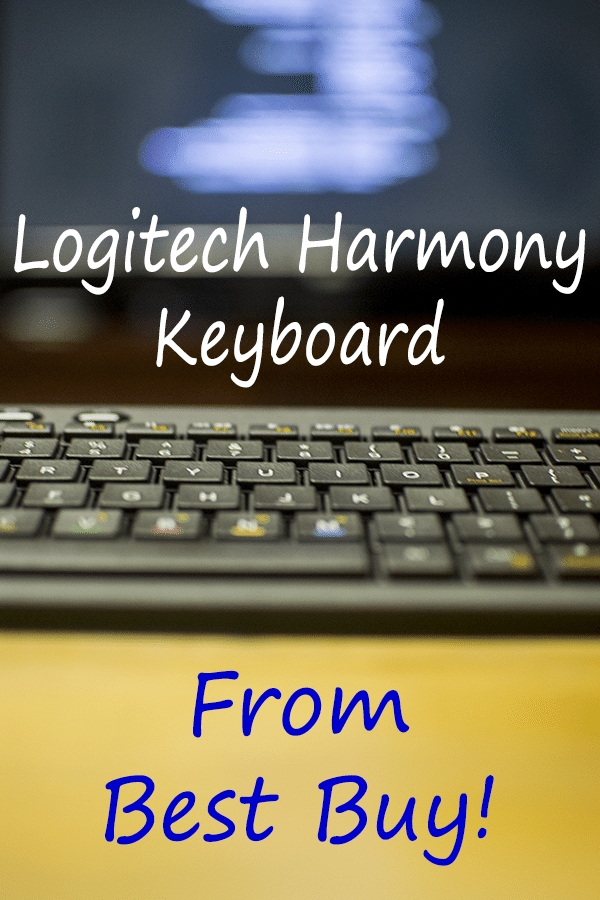 I'm not very old, but I have seen living room devices and entertainment change significantly during my life. Smart TVs, gaming systems, media streaming devices, computers, and whatever mobile device you can have in your hand have changed living room entertainment. These devices can be connected to the internet and each other. The living room can end up with several different remotes and controllers that seem to stumble through some of the new systems out there. Typing in a Roku involves using arrow keys to navigate up and down a vertical list. In this day in age there should be something better out there to simplify living room entertainment. Fortunately there is with the Logitech Harmony Keyboard and Hub exclusively @BestBuy. You can now control several different entertainment devices with a keyboard and you phone. You can type your searches quickly, you can login quickly, and you can control you laptop while displayed on your TV quickly. It is about time, and you can only get it at Best Buy.
There have been times when I have had to login into to my Netflix account on my something like our PlayStation 3 when I couldn't remember my username and password. We have several different combinations that we use, so my usual default method is a bit of trial and error. That doesn't work very well when you are typing with arrow keys. Especially when you are just unsure of the password and you have to retype the username every time to try to login. It seems like an antiquated method, and your user experience doesn't have to be like that. Getting your entertainment system to entertain you shouldn't be so much work.
Fortunately, with a small investment in time and money you can get the most out of your living room entertainment. You don't have to spend time looking for that one remote of the three you need to watch a movie. Instead you can just pull your phone out of your pocket and use the Harmony app to say that you want to watch a movie. According to how you have pre-programmed your Harmony app your TV and media device will turn on. Then you can use the very user friendly Logitech Harmony Keyboard to scroll through the menus to play your DVD or search for a movie on digital media subscription service. Your keyboard and control both your media device and your television. Plus, you will look a lot cooler using a keyboard than a remote when having a movie night with friends or family.


As apps on different devices improve, the Logitech Harmony keyboard will become even more useful. For example, I could easily imagine social media apps have more text input options to comment on pictures or chat with friends. The home movie that you have on your laptop will look even more spectacular when you connect your laptop to your big screen TV and control your laptop with the Logitech Harmony Keyboard.
My Logitech Harmony Keyboard from Best Buy has been very useful for me, and I think it will only become more useful in the future. I have connected my Keyboard to the Harmony Hub which relays the keyboards signal to your devices. The hub can use Bluetooth, WiFi signal, and infrared signals to control a variety of devices. The keyboard comes with two USB receivers that you can use to connect a laptop or a PlayStation console. You can use the Harmony app on a smartphone or tablet to set everything up, and for me so it seems like that I need to use the app to set which devices I am using before the keyboard will work. If multiple devices such as a game console, television, and speaker system are used to watch movies, then you can program an activity on the Harmony app called 'Watch a Movie' that will turn on/off and control those three devices. The app can control actions within the device as well, such as selecting a movie from a menu and changing the volume. It can switch between different activities.
Once the hub is connected and everything is setup the keyboard becomes surprisingly useful. The keyboard has three buttons you can program for six different activities depending on whether you hold the buttons down for a few seconds or not. The keyboard can be used to navigate devices like a Roku, Xbox or a smart TV. The keyboard already has preset buttons to mimic game controllers, and I assume you could use it play games. The Logitech Harmony Keyboard even has a touchpad like a laptop. A swipe left can let you scroll left. A left click will let you select something.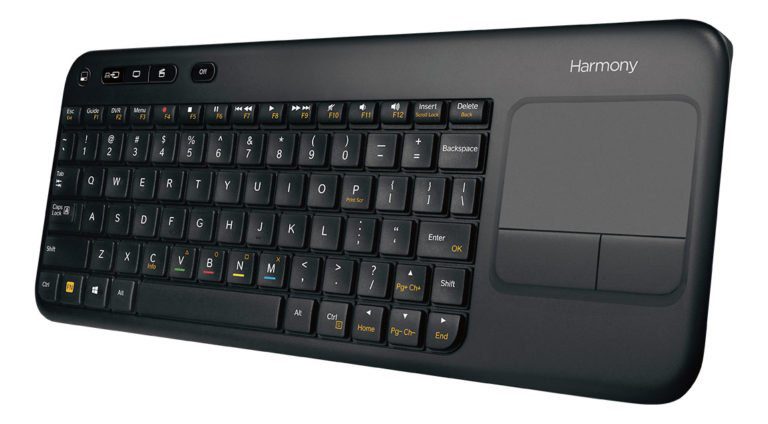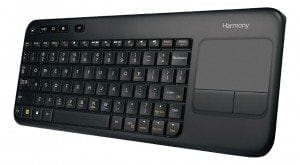 The keyboard is very easy to use. It has a textured finish and rubber feet to make it easier to hold and place in uneven surfaces. The keyboard is very light, which came in handy last night when I was lying down watching a movie and I was holding it above me to use it. I was tired and distracted so I ended up holding the keyboard in front of me for a minute and the weight didn't bother me at all.
The initial setup was a little difficult at first. Here are a few tips to make things easier. Download the Harmony app on your phone or whatever you think you might have with you when you're using your entertainment devices. Follow the directions in the app to plugin the hub and connect it to your wifi network. The devices you want to connect will need to be on the same wifi network. If there are issues with the app or the hub, as with a lot of technical things, sometimes the fastest and easiest thing to do is turn everything off, uninstall the app, and start over. Everything I tried to connect and do eventually worked. Sometimes signals can get a little crossed. Especially when you're like me and you try to set it up at night when you're a little sleep deprived.
Additionally, the keyboard comes with a small extender that is a receive that connects to the hub which can allow you to hide the main hub or stretch the reach of the hubs range devices it can control. The hub is not meant to control all of the devices in you house. It does do an amazing job of harmonizing (get it) all of you devices. Sometimes the next great gadget doesn't necessarily involve inventing some revolutionary new piece of hardware, but just combines existing hardware and software in such a way as to make everyday life easier. That is what the Logitech Harmony Keyboard does.