My top 13 Best Pampered Chef Products that I think everyone should have in their kitchen!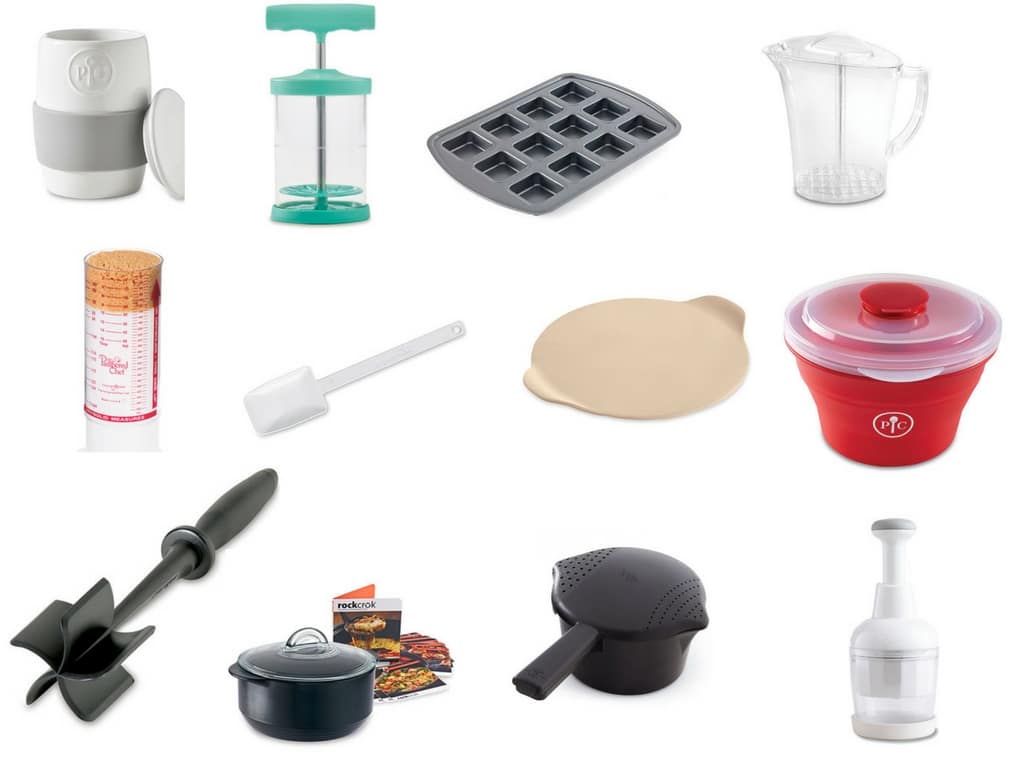 I'm not a consultant, but I am hosting a party right now – and you are invited! Scroll to the bottom of the page for party information and specials (for FREE product) or start shopping here.
Growing up, I remember my mom occasionally going to Pampered Chef parties – or, on occasion, hosted one.
She ended up accumulated some Pampered Chef products over the years, and it's been interesting to watch how useful they've been – and how long they last! Some of the products she has are among the most-used in her kitchen.
So when she hosted a Pampered Chef party a few weeks ago, I was excited to attend. While I have a few Pampered Chef items, I thought it would be fun to see what else they had.
The party was SO fun! I loved trying out products, seeing the new items, and, of course, eating delicious foods.
I decided to host one myself – and instead of just having it for my friends in person, I thought it would be fun to extend that to all of you. I am not a Pampered Chef consultant, but I do love the products. Click here to learn more about the party or click here to go directly to the party page!
I wanted to share my list of the top Pampered Chef products. These are products that I've either used myself, or I have been told by many people that they have stood the test of time.
Even if you miss the party, you can always place an order through the website. I have linked to the products directly (with my friend, Brianna, as the consultant).
Make sure you click here before you start shopping to join our party!
Large Round Stone – my mom has had this pizza stone for ages, and it is wonderful. I LOVE how much you can do with a pizza stone, and this one is very high quality. They have changed the design since my mom bought one years ago, but it looks great. They even offer a glazed one that is a bit more decorative and pretty. It's great for pizzas, cookies, breakfast sausage ring, and more!
Food Chopper – I feel like this is one of those products that reminds every one of Pampered Chef. It's great for chopping up vegetables, fruits, nuts, etc. We got another brand of food chopper from Bed, Bath, and Beyond…and it did NOT work well. I got to try this one out recently, and it was much easier to use. So it's worth getting…especially if you are like me and don't love chopping veggies.
Mix 'N Chop – okay, this is my favorite product. I just got it, but it's seriously the kitchen product I've been waiting for my entire life! It's a tool that helps you to grind up ground beef, turkey, sausage, etc. with ease into small pieces – while mixing in the spices at the same time. Everyone I know that has tried it, loves it. For the month of May, you can get one in grey and pink in honor of Breast Cancer Awareness month!
Rock Crock Dutch Oven – I hadn't heard of this until, but it's at the top of my list after trying it. It's a versatile dish that can be used in the microwave, oven, grill, and stove top. And it can also be turned into a Crock Pot! We made the most delicious chocolate lava cake in the microwave. They have a bunch of different products in the Rock Crock line, but I really want the dutch oven!
Popcorn Maker – This is another recent purchase, and it's one that I love. I LOVE popcorn, but I feel like all of the popcorn makers I have fall short in one way or another. This one is everything I've ever wanted in a popcorn maker – it's easy to store, it's easy to use, and the popcorn turns out delicious. It does take a little bit of trial and error to figure out what works best
Measure-All Cup – I believe it was the Pioneer Woman who recently said this is the kitchen product every person needs in the kitchen. It really makes measuring out ingredients so easy – especially things like mayonnaise, because it just pushes it all out!
Micro-Cooker – This was the first Pampered Chef product I bought a few years back. My mom has always raved about it, and that is for good reason! It makes cooking vegetables, melting butter or chocolate, and even making rice a cinch! I have the small one, but I keep wanting the larger one!
Mix 'N Scraper – There are a variety of sizes of these rubber spatulas, but they are
Brownie Pan – I was so tempted to get this at my mom's party. It makes the perfect brownie – crispy edges and gooey inside for everyone! You can also use it to make mini omelets, meat loafs, and more!
Quick Stir Pitcher – if you like to make a lot of juices or lemonades, this is a really handy pitcher to have on hand.
Ceramic Egg Cooker – I think this is a newer product, but it's one that I bought at my mom's party. I have really enjoyed it so far. You can cook omelets, oatmeal, cakes, and more in it. This would be a great gift for a teacher!
Batter Bowls – My mom has a set of these, and I know she's always loved them. They are on my list to get!
Whipped Cream Maker – Nothing is better than homemade whipped cream…but it can take awhile to make. This whipped cream maker takes 30 seconds to pump out perfect whipped cream in no time!
There you have it! It's always best to buy directly through the Pampered Chef website so you can take advantage of their amazing return policy.
What are your favorite Pampered Chef products?
Current Party Information:
I am currently hosting a party through my friend and consultant, Brianna. This party goes through May 20th, 2017 and you can shop here. I believe shipping is around $7, though you can buy with a friend and split it.
When you make a purchase of $75 or more through my party, you get to choose one of these products below for free!