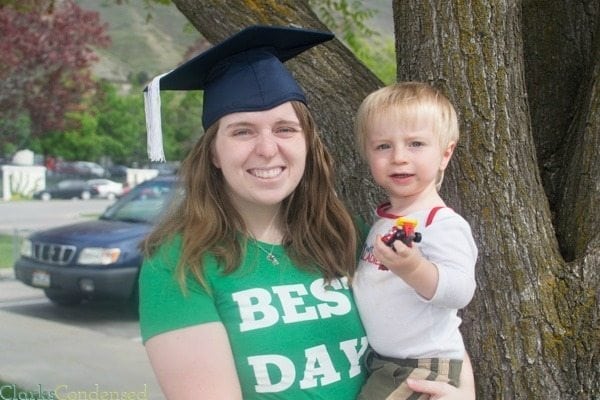 Forrest always teases me because I often use superlatives to describe days, food, events, etc. I'll admit, I'm a fairly dramatic person (but please don't let that be make you think I love drama — I do not!), but when I use superlatives, at that moment, I really think whatever I'm describing deserves it!
You'll probably agree with Forrest, if you've been reading this blog for long, or know me in real life. I often talk about the best recipes ever — and I do think they are the best!
So when I was asked to describe the best day ever…I had a hard time coming up with one moment that I felt trumped all the rest. Instead, I kept coming up with several different occasions. As I thought about this, I was catching up on the latest Grey's Anatomy episode, and (spoiler alert) Burke was telling Cristina how the Harper Avery was great, and he was on a high for a long time, but the crash was terrible — he felt like his life had been built up to that moment, but when it was over…perhaps he had nothing else to look forward to.
And that's how I feel about picking just one best day. I mean, if you build up all this anticipation for one day, and have expectations for it being the best day ever…when it's over — what, the rest of your life is downhill from there? No way!
For me, I've had many best days — in that moment and time, it felt like things couldn't get better. And guess what — it some ways, they didn't. But in other ways, my next best day was even better. And some of the best days I've had, I didn't realize until after the fact that it would be the best day of my life.
For instance, the day I met Forrest. Sure, he looked at me weird and walked away, and didn't say a weird. However, it was the best day, because I met the love of my life!
And of course, over the course of our relationship, I've had even more best days. Our first date, the day he asked me to be his girlfriend, the first time he said, "I Love You," the day we got engaged…and of course our wedding day! But beyond those big milestones, I had plenty of "best days" while we were dating, and ever since.
I also have had best days that weren't related directly to Forrest…which makes sense! High school graduation, college graduation, going to Disneyland, the day Jack was born, the first time Jack said my name, numerous family vacations.
I think that every day could potentially be the best day, and we don't need to limit ourselves to just one "best day ever." So, when I wear this shirt, and people ask me what the shirt was for, I want to be able to say that day– because I believe any day has the potential to be the Best. Day. Ever. Just for fun, I decided to wear different items from some of my best days while wearing this picture, all while standing where Forrest asked me to be his girlfriend, and later to marry him (since I couldn't really drive to Colorado and stand in front of the temple we were married at!)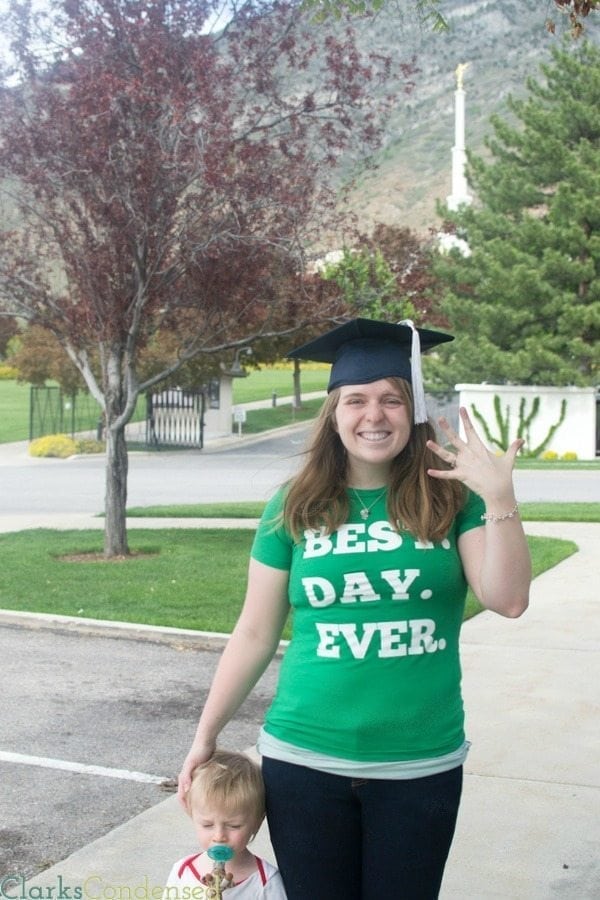 Wedding ring, bracelet from wedding, necklace that has Jack's name on it (represents him being born), my graduation hat, and the best pair of jeans I ever bought…believe me, that was definitely the best day ever!
Do you want to tell the world you're having the best day ever? Just comment below and tell me about one of your best days, and you'll have a chance to win your own Best. Day. Ever. shirt from Elevate Promote. Contest ends on May 12th, 2014