How to come up with a blog name that will rock your blog!
This post was inspired and sponsored by Domain.ME, the provider of the personal domains that end in .ME. As a company, they aim to promote thought leadership to the tech world. All thoughts and opinions are my own."
When Forrest and I decided to start a blog, the hardest part was coming up with a name.
It felt like we took forever throwing out ideas – and then turning them down.
I actually first started with the idea of "The Clarks Crafty Corner", but after a few days, I realized that I didn't want to limit myself to "just" crafty projects…because lets be real – it takes me weeks to get one project done!
When Forrest threw out the name "Clarks Condensed" it just felt right. Did it make a whole lot of sense? Not really. But it surrounded our family name, and since wanted a blog where we could share about all things family related, it seemed like a good idea.
Since then, I've learned a lot more about the importance of your name – particularly your domain name. It can really affect your search engine ranking, what people think of your site, etc.
Would I do a different name if I was starting my blog now? Possibly. But at this point, we've made a brand out of it, so there's no way I'm changing!
However, if you are just starting out on your blogging journey, hopefully some of my hindsight advice on choosing a blog name will be helpful!
What's your niche?
What are you representing? When you start brainstorming, write down what you are planning to write about and see if you can incorporate that into your blog name.
Should you use your own name?
This is a pretty popular thing to do right now, and I think there is definitely merit in it. It's great if you aren't wanting to be tied to one particular niche, and if you really want people to associate you with what you are writing, this can be a great option.
I know that many popular bloggers use just their name, and it has definitely become their brand. If you add a .ME to the ending of it, it can make it even more personal.
However, if you aren't really writing a lot of personal content (or opinions), I probably wouldn't use your name. A food blog with your name won't as easily be associated with food!
Is it lasting and evergreen?
I've known people to start a blog about their sons – and they include that in the title – and then, bam, they have a girl!
Obviously, they could keep writing about just boy stuff, but if they start to incorporate girl stuff…it is a little less relevant.
Make sure your blog name will stand the test of time – and not just your current phase!
Is it catchy or memorable?
Will people remember your blog name? Is it too similar to another site? Make sure it's unique and stands out!
Does it make sense?
This is one area where Clarks Condensed probably falls short…it doesn't make all that much sense 🙂 I always tell people that our blog is all about lives condensed…but still, kind of doesn't make sense.
But, that's where the beauty of a tagline comes in 😉
.Com, .Org, .Net, .ME?
Ah…what should your domain prefix be?
You might have come up with the perfect name, only to find out that someone else has bought it.
Sometimes it will be just a random person who doesn't even use the website anymore (so annoying!),
The thing you should NOT do is add hyphens to your domain name or misspell it just so you can get the .COM.
You can change your name – however, I know as well as anyone that once you come up with the perfect name, it can be frustrating to change it to anything else.
So you can choose another ending – check and see if the .ME domain, .NET, or .ORG is available!
.NETs are traditionally for networking services and .ORGs for non-profit organization – however, there's nothing stopping you from getting these. It just might misrepresent your purpose a bit.
Choosing a .ME domain is a great option, though. They are available through most domain registers, and because they aren't as well-known, there are many, many options available.
Your site will have the same SEO benefits with a .ME domain ending as a .COM, and it can really add a personal touch to your site. It's great for online portfolios, blogs, and it's actually the top choice for many global startup companies.
So definitely consider getting a .ME. Although I already have my .COM, I think I might get a .ME soon to create my online media kit.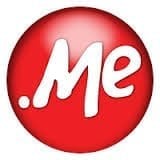 And, after you do decide what ending should be your main one, buy the rest of them, too! There are people out there that try and buy the unused domain endings for popular sites to try and confuse or redirect people.
You can search for your perfect domain name here:
[dotme_search size="300×320″][/dotme_search]
What does it represent?
What does your blog name mean? Does it represent something you want it to? Does it represent what you are actually writing about?
If you are writing about all types of recipes, you probably don't want to a title that only mentions desserts!
Can it be easily misspelled or associated with something else?
Although Clarks Condensed isn't super hard to spell, people always put an apostrophe in Clarks, and it drives me INSANE. It's not really that big of a deal, and I wouldn't change my blog name because of it…but it is annoying.
I think it's usually best to make it so your site is easy to spell and for people to remember. For instance, my sister-in-law, Charbel, runs a website called My Latina Table. However, it was previously called "Imagina, Inventa, e Intenta", which was a great name, but it was hard for people to remember. Her blog has been a lot more successful since she rebranded. A lot of that is due to hard work, but I think the rebrand helped.
You also want to make sure you don't choose a name that could easily be associated with a different brand or idea. You want your brand to be unique – not just associated with someone else!
Are there social channels available for that name?
Before you decide on your name, make sure the social network names are available!
Is it searchable?
I think this is a big one for SEO – does your domain name have keywords in it?
For instance, if there was a dentist who was starting a website/blog in Tulsa, and he was hoping to drive traffic to his business eventually, a good domain name would be "DentistinTulsa.com"…because people will be searching that!
So, you can have a domain name that may not always be the same as your blog name. I don't always recommend this, but you could buy a domain name that is keyword rich and have it redirect to your actual domain.
Check trademarks and copyright
You want to do this to cover yourself – just make sure you aren't taking the name that someone else has already trademarked or copyrighted!
Bonus: Should you rebrand?
I have helped quite a few people rebrand over the years, and I am often asked by others whether or not they should do it.
There are a few things to consider, though, so I would keep these things in mind:
Why do you want to rebrand?
Has your blog changed focus from when you originally chose your name?
Are you okay with losing social share juice (as in, your social shares for Pinterest, Facebook, etc., will be reset).
Are people often confused about what your blog is about? Does your name represent something that your blog doesn't?
How to rebrand is a topic for a whole other post, but hopefully you can decide now whether it would be a good choice for you.
For more expert blogging tips, make sure to check out our blogging blog, The Blog Help.