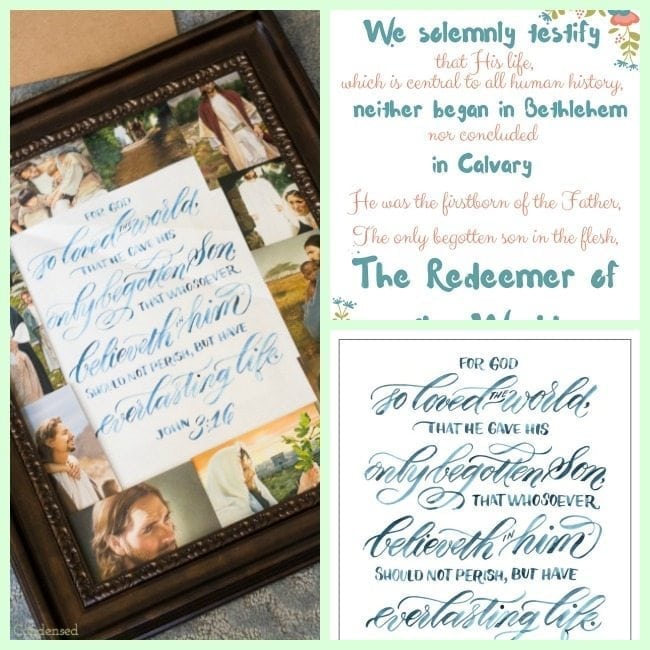 It's so weird to me to have Easter in March.
I feel like that hasn't happened in awhile! It's just kind of sneaking up on us around here.
For us, Easter is a pretty simple holiday where we are able to remember the resurrection of the Savior. I think it's one of the most important holidays, because honestly – the death and resurrection of Jesus Christ is the most important thing that's happened on the Earth!
We celebrate Easter with the more "fun" aspects – dying Easter eggs, the Easter bunny, candy, of course. But I also like to make sure we teach Jack about the reason why we celebrate Easter. Even though he's only four, he's really so receptive to spiritual things. It's fun to watch him learn.
Join the our LDS Weekly Newsletter!
LDS inspiration, activities, printables, and more!
Sent straight to your email every week!
I'm not the craftiest person around – nor am I very good talented when it comes to decorating. However, I do like making simple crafts every now and then. Shortly before Forrest and I got married, I made a framed picture of "The Living Christ" with wallet sized artwork of Jesus Christ surrounding it. I loved how it turned out, and it's been in our living room since we got married.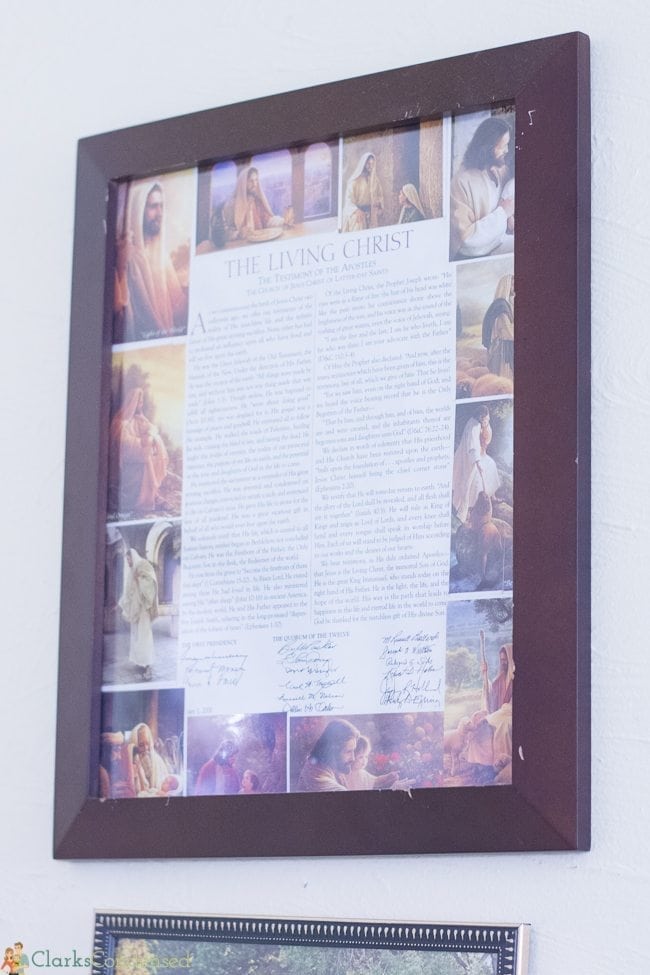 When I saw some of the printables that were created as part of the #Hallelujah Easter initiative (see my sidebar on desktop for more information!), I thought it would be fun to do something similar but with this print created by Melissa Esplin:
I also created my own printable with a portion of "The Living Christ" on it, in case you wanted to put that in it instead. You can grab both printables by hovering over the widget and selecting print, or you can customize the colors of the one below, you can click here!
And now for the tutorial on how to make the Christ picture frame. It's really easy! If you make it, I'd love for you to share it on social media and tag us and use the hashtag #Hallelujah
Materials:
Frame matted to fit a 8×10 print
1 package of Christ photos (I used the Son of Man Mini Picture Set by Liz Swinddle.)
Double sided tape
Saw-tooth picture hanger
8×10 Printable Quote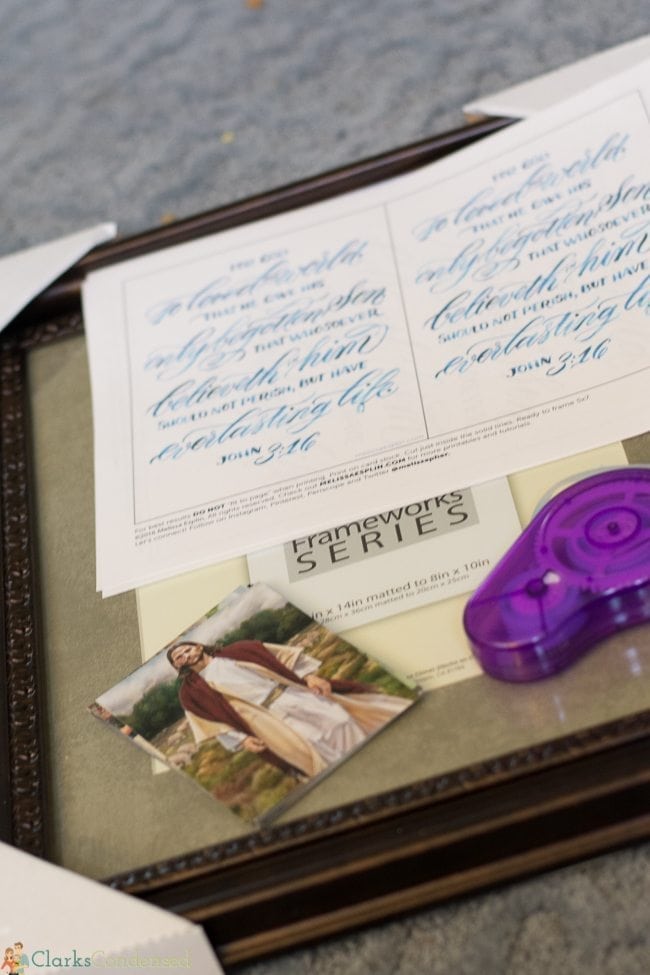 Step One:
Remove glass from frame and tape the print to the center of the mat.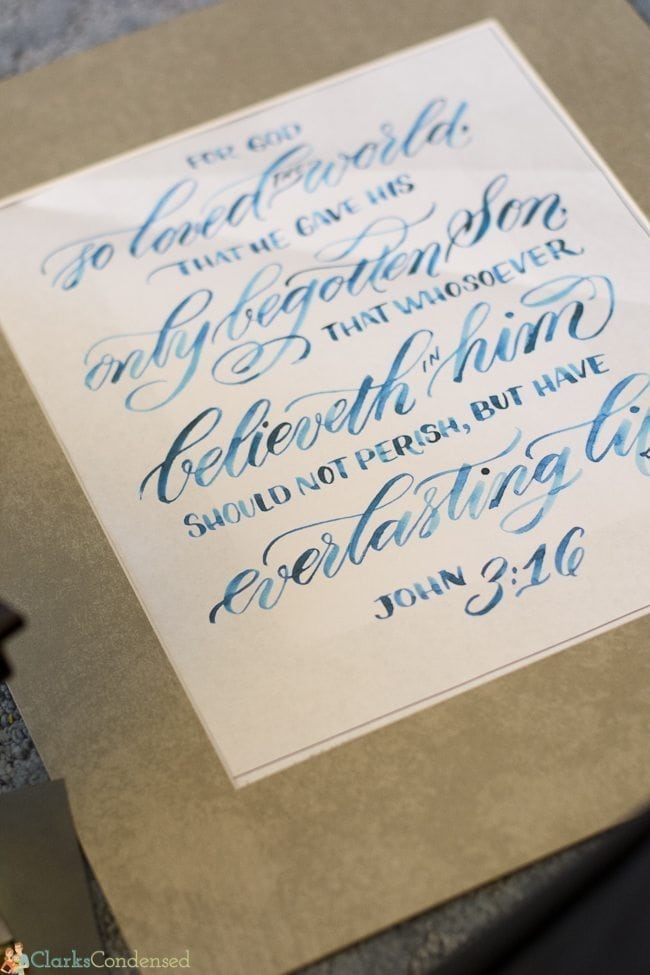 Step Two:
Place the frame (without the glass) over the mat. Arrange the Christ photos so they fit around the frame. You will likely have to play around with it a bit. The package I used only came with three horizontal photos, so I had to choose one of the pictures to cut to fit horizontally.
Step Three:
Remove the frame and using double-sided tape, secure the photos back into the arranged positions.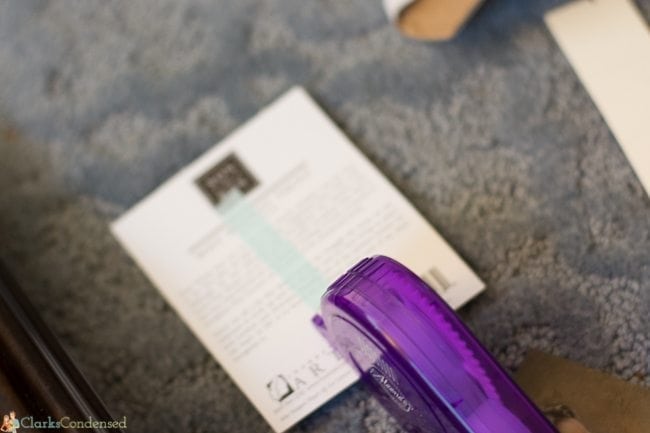 Step Four:
Flip over the mat and cut away the excess edges.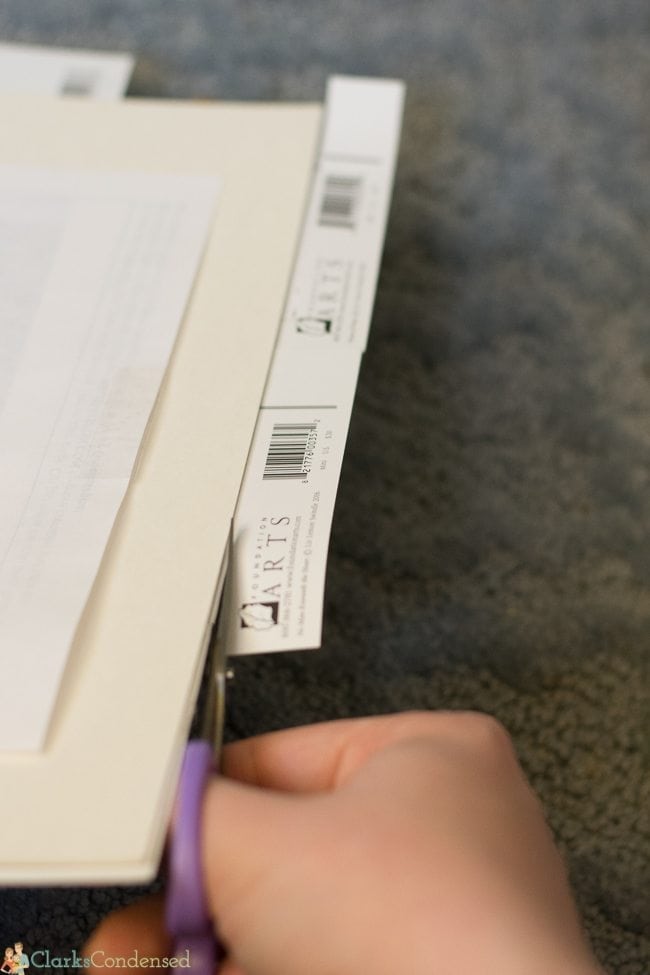 Step Five:
Place back in frame and add a sawtooth picture hanger to the back if your frame doesn't already have one.