I participated in an Ambassador Program on behalf of Mom Central Consulting for Brother P-touch. I received a product samples to facilitate my review and promotional item as a thank you for participating.
The holidays are an exciting time for everyone. Kids are excited for school to be out, for Christmas presents, and to spend time with relatives and friends. For parents things can be much more stressful. Parents have less time off of work, and a lot more responsibility to make the holidays as memorable and magical as possible. One thing that can help maintain a little order amid the chaos is a Brother P-Touch label maker. At the very least it can make the things that normally occupy your thoughts a little simpler. One thing that I am sure that the P-touch label maker can help with during the holiday season is labeling leftovers with dates of when the food was made. Big holiday meals can leave a lot of leftovers. It can be hard to keep track of how old the leftovers are. I hate wasting food. However, as the saying goes, when in doubt throw it out. Sometimes I've thrown away leftovers that may have not been that old just because I couldn't remember how old they were.
Another handy use for the P-Touch label maker is to label dishes as dishwasher and microwave safe for any guests that might be staying at your house. You don't want your guests, or you yourself, ruining things like plastic food storage containers. Another thing that you can do if you are going to have a lot of guests is to label drinking glasses. In my experience at family holiday events there can be a million different cups. Instead of using cheap plastic cups you could just put some durable labels on the glasses. That way you don't have to do multiple loads of dishes in the dishwasher just because no one knows whose cup is who so they just grab another one. Labels use less plastic than a cup so it is better for the environment too. If guests are staying for multiple days the labels should stay on the cups for awhile.
In the end, I have found the Brother P-Touch Label Maker most helpful in making everyday tasks a little easier so I can focus on the special moments in my life, like the holidays. One thing I have done is label my sons dresser drawers to avoid my wife and I from accidentally mixing different types of clothing. This helps me when I need to quickly grab a shirt or pants while I leave my little son hopefully stays occupied with something safe in another room.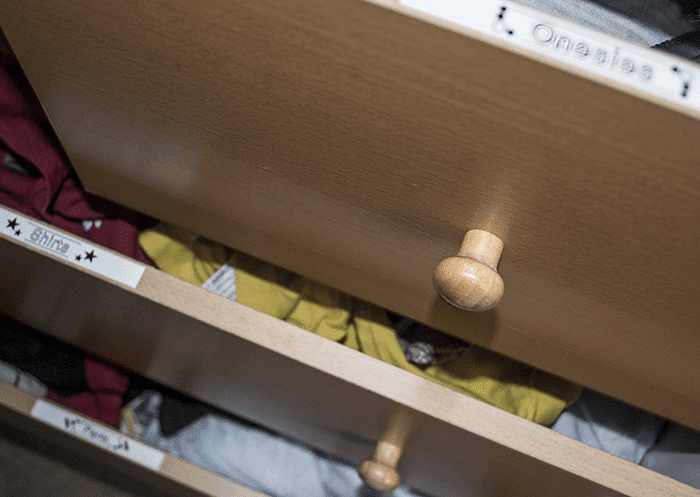 To learn more visit Brother P-Touch online. #MC