(If you are just here for the Better-Than-Pastaroni Spaghetti Squash recipe, and could care less about someone's road to a healthier lifestyle, feel free to scroll to the bottom for this absolutely delicious recipe!)

Today starts a series of new posts that I am doing, along with some other bloggers. As you can see from the header, it's about weight loss, or, at least in my case, more about getting healthy.
Each week, there will be a different topic to talk about, and I would encourage you to read all the posts from those participating. I hope this will be an inspiring series, that people of all ages will enjoy. Today, all of us will be introducing why we are participating, and some of us will also be sharing some yummy recipes or exercise tips.  Here are the other gals pages!
Pint Sized Baker
The Foodette
Heather's French Press
Call Me PMC
Wonky Wonderful
The Haas Machine
Sarah's SaturDIY
I do ask, that if you have anything negative or mean to say, that you keep it to yourself (for example, no, "Well of course you have a hard time losing weight. You're always making food." FYI, I don't eat the entire portion of the things I make! Moderation in all things.) This is all about helping others reach their goals, and being rude or belittling helps no one (and I'm sure just makes the mean person feel worse about themselves anyway.)
I've written, and re-written, this post several times. I wasn't sure how much of my struggle with my weight and body image I should put out on the Internet. I've seen other bloggers, who are friends and family members of mine, be very honest about things like this, only to get tons of negative comments. I have a somewhat sensitive soul, and I don't know if I could handle people being super critical of me if I were brutally honest about how I've struggled. I mean, I almost cried when I got a mean comment on an article I wrote while I was at BYU about a breast milk fortifier for preemie babies (sometimes I think people just enjoy being mean in comment boards.) So, I've decided to just share a brief overview of my struggle with weight and body image, and why I've decided to participate in these Weight Loss Wednesdays. Maybe at a later time, I'll go more in-depth, but for now, this is a big step for me, as it's not something I like to talk about. At the end of this post, I'll also share one of my favorite, healthier side dishes as of late.
So, here we go.
For the majority of my life, I've been overweight. At one point, I was considered very much obese. And during those years where I was at extremely high weights for my age and height, my self-confidence took a battering. Let me just tell you this, middle school girls can be brutal. I was fortunate enough to recognize that path I was on, and lose 40 pounds over the course of a few years, and get to a much healthier weight. I remember my pediatrician telling me how proud he was, because he rarely saw someone who was so overweight lose the weight they needed to. Since then, I've had a hard time getting below that weight, but, until recently (and of course, during my pregnancy) had been able to keep it off. Even with that, I still struggle to this today with my body image and self-confidence, as after-effects to the hurtful comments and looks I often got when I was younger, and how I 'trained' myself to look at my body.
When I was pregnant with Jack, I was extremely sick, and only gained about 10-15 pounds overall. The weight I did gain, plus a little extra, was gone within about two weeks. To be honest, even though I was exhausted (and still am!) I felt better than about myself in years. Even though I had trouble losing any more weight after that, I was actually somewhat content with how I looked and felt. I was just a few pounds less than I was before I got pregnant, but it seemed to make all the difference.
Well, fast forward to a few weeks ago. All of the sudden, I just started gaining weight out of nowhere. If anything, I had been eating healthier and exercising more. However, the scale continued to rise, and and my clothes got tighter. In the past few weeks, I've gained about 10 pounds for no apparent reason, and it's been very discouraging. Part of me wonders if I'm retaining water, seeing as it's come on so fast. I recently cut down significantly on nursing Jack (yeah, I'm one of those "crazy" people who nurse past the age of one. Whatever) and I think that might have to do with it — my mom told me she retained water like crazy after she quit nursing me and my little brother as well. Whatever the reason, I'm ready to stop this weight gain in it's tracks, lose some weight, and be healthier.
For me, it's not important to be the skinniest person ever I know plenty of skinny people who are not healthy at all, and many people who weigh a little more but eat healthy and exercise. I don't believe my body is meant to be very skinny; and that's something that I've accepted. I'm okay with having extra curves and a mommy "softness" about me. However, I do believe that I would be better off weighing about 15 pounds or so less than I do right now (or about 5 pounds less than what my weight has been for the last 17 months, and for several years before I was pregnant,) especially before we even think about having another baby. I want to be around for a long time — to see Jack grow up, and meet lots of grandchildren, and great-grandchildren, and I think by making changes to a healthier lifestyle now will help me be around not only to see those milestones, but actively participate as well.
When Karyn suggested this Weight Loss Wednesdays, I knew I had to join in. I've read often that one of the best ways to lose weight is to be accountable to someone else, and I think this will be a great way to do that. Each week, I'll report any weight loss success I've had, and what I've done to make my life healthier. I'm not going to tell you all my weight (that's one thing I like to keep private) but I will give a + or – for the amount. I'd love to have any of you join along.  If any of you have simple tips for getting healthier, I'd love to hear them. I'm not one to go on a diet, so this journey is to make a lifestyle change that will last a lifetime, and encourage my family to be healthy as well. I never want Jack (or any other children I have) to feel the way I did growing up, and I know by encouraging healthy habits early on, they will hopefully be able to have a healthy perspective on life.
Week One: – 0 pounds.
Goals:
Exercise 30 minutes each day
Drink 64 ounces of water
Go to bed before 11
And now, for a yummy recipe.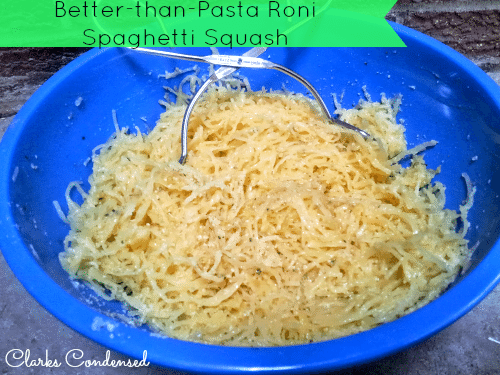 I always loved Pasta Roni growing up, but I never make it anymore because I realized just how bad it was for me.
unhealthy it was. Even knowing how unhealthy it is, I sometimes think about how yummy it would be to make a big batch of it. So, I decided to create a healthier version, and let me tell you, it is most definitely better than any Pasta Roni I've ever had. I made it recently for my family, and my mom insisted that I make it a few times since.
What makes it so much healthier is that it's made with spaghetti squash. If you've never had spaghetti squash, I highly recommend it. It's a great alternative to regular pasta, is so much healthier, and honestly, I can't hardly tell the difference. It's so tasty, and I think I will start using it is a low carb/gluten free option in other pasta dishes from now on!
In this recipe, I cooked the spaghetti squash in the microwave, and described that method. However, if you'd rather cook it in the oven, by all means, go right ahead!
Weight Loss Wednesday and Better-Than-Pasta Roni Recipe
Ingredients
1 large spaghetti squash
3/4 cup reduced fat Kraft Parmesan Cheese
1/2 cup butter or butter substitute (such as Earth Balance Buttery Spread)
1 Tablespoon Italian Seasoning
1 Tablespoon garlic powder
Instructions
Cut spaghetti squash in half, and remove seeds. In a microwave safe dish, place one half of the spaghetti squash. Pour 1/2 cup water into the center of the squash. Place the other half of the squash on top of it, and cover with plastic wrap. Cook in microwave for about 8-10 minutes.*
After squash is cooked, let it sit for a few minutes, as it will be very hot. Then, use a fork to remove all the "spaghetti". Place in a large bowl. Put butter, Parmesan cheese, Italian seasoning, and garlic powder in the same bowl, and mix until the butter is melted. Add more cheese or seasonings to reach desired flavor. Serve warm.
Notes
* If you use use a smaller squash, adjust accordingly
http://www.clarkscondensed.com/side-dish/better-than-pastaroni/