To compliment the Green Egg pretzel cookies, we decided that we needed some actual eggs, and ham as well. We purchased two delicious quiches from Costco, and then made my mom's famous sausage breakfast casserole.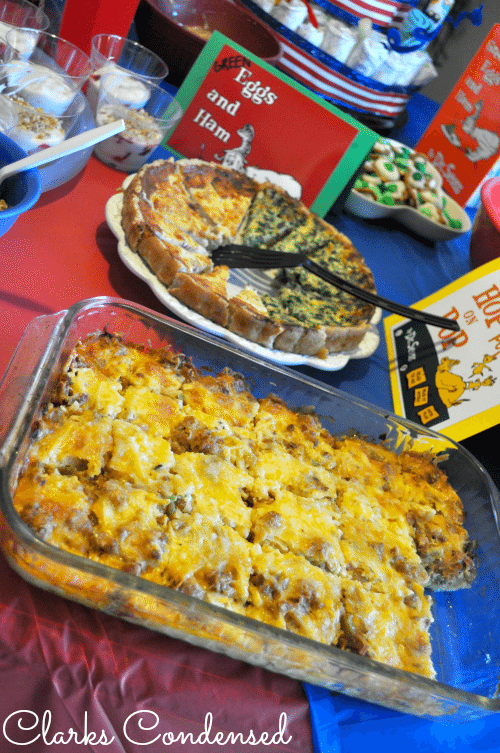 Since the baby shower was at 10:00 AM, it was the perfect addition to our little brunch fest. We had originally planned to put ham in this casserole, but forgot in the end, but that's okay. Sausage is way better, and I don't even like ham 😉 So we just pretended like there was ham, and it was almost all gone by the time the shower was over.
This casserole is made quite often — Father's Day, Easter, Christmas…you get the idea, basically perfect for holidays when you don't want to get up early to cook (or any time really!) You have to make it the night before, but it's perfect to just throw in the oven the morning you want to use it, and it's just so darn tasty. I'm getting hungry just thinking about it. The best part of it is, it is so, so easy.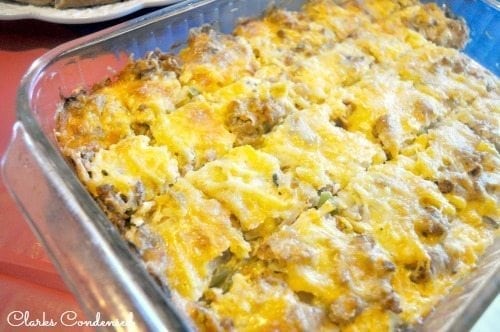 Sausage Breakfast Casserole
Ingredients
1 pound Italian Sausage
1/2 cup onion, diced
1/2 cup green pepper, diced
4 cups frozen, shredded hash browns
8 eggs
2 cups Kraft Natural's Colby Jack Shredded Cheese
1 1/4 cup milk
Salt
Pepper
Instructions
Fry sausage in a large pan until cooked. Move to paper towel to drain excess grease, and in same pan, saute ½ cup onion and ½ cup green pepper until soft.
Mix sausage, onion, green pepper, and hash browns together and spread evenly into a 9x13 pan. Sprinkle two cups grated cheese over the top.
In separate bowl, whip eight large eggs, and 1 and ¼ cup milk, salt and pepper together, and pour over hash brown mixture.
Put in fridge overnight or for at least two hours. Bake at 350 degrees for 55 minutes or until eggs are set
http://www.clarkscondensed.com/recipe/sausage-breakfast-casserole/
This recipe was created on ClarksCondensed.com. Feel free to distribute as needed, but if you post it on your own site, please link to back to ClarksCondensed.com
The following two tabs change content below.
Katie Clark is a Colorado-native, a journalism graduate from Brigham Young University, and most importantly, a mother to the cutest little boy and wife to the most handsome man. She is a woman of many (random) talents, which include writing, cooking, sewing, technology, social media, and being a self-proclaimed Google expert. She loves spending time with her family, learning about parenting and pregnancy, and just enjoying life to the fullest.