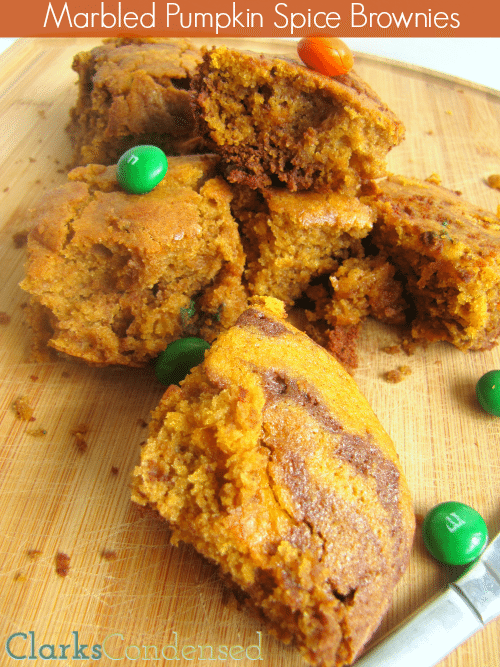 Last Sunday, I gave Forrest a couple different options for dessert, and he chose brownies. Since I had two half-used cans of pumpkin in the fridge, and a bag of Pumpkin Spice M&MS, I thought I'd make pumpkin brownies — 'tis the season, right?
Most of the recipes I found had cream cheese in them, and we didn't have any of that. So I was excited when I stumbled on to this tasty sounding pumpkin brownie recipe. I adapted it a little bit, cutting down the sugar and butter a tad bit, and using Pumpkin Spice M&M (exclusively found at Target stores) instead of chocolate chips.
The result?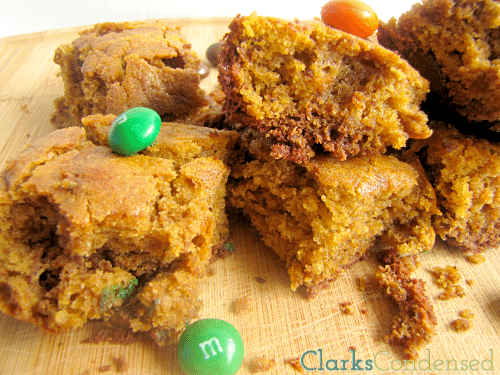 Light and fluffy brownies. To be honest, they aren't gooey and uber-chocolately, like traditional brownies, but they still had the delicate chocolate flavor that I love. The M&Ms added even more chocolate, and the pumpkin really played well with all of it. They were super addicting too…which may or may not have been a good thing. If you can't find the M&Ms, you can use semi-sweet chocolate chips instead…but I think it's worth the search!
Marbled Pumpkin Spice Brownies
Ingredients
3/4 cup all-purpose flour
1/2 teaspoon baking powder
1/2 teaspoon salt
1/2 cup butter, melted
1 cups white sugar
2 teaspoons vanilla extract
3 eggs
1/4 cup cocoa powder
1/2 cup Pumpkin Spice M&MS (or semi-sweet chocolate chips)
1/2 cup pumpkin puree
3/4 teaspoon ground nutmeg
3/4 teaspoon ground cinnamon
Instructions
Preheat oven to 350 degrees.
Mix together flour, baking powder, and salt in a small bowl. In another bowl, mix together melted butter, sugar, and vanilla. Beat in eggs one at a time.
Slowly add flour mixture and stir batter until it's moistened throughout.
Divide batter into two separate bowls. In one bowl, mix in cocoa powder and pumpkin spice M&MS. In the other bowl stir in pumpkin, cinnamon, and nutmeg.
In a greased 8x8 pan, spread the chocolate batter, and then put the pumpkin batter on top of that. Using a knife, drag it throughout the dough, marbeling and mixing the two batters together. Smooth top with a rubber spatula.
Place in pre-heated oven for 40-45 minutes, or until a toothpick or knife comes out clean. Let cool in pan and cut into squares.
Notes
inspired by http://allrecipes.com/recipe/pumpkin-brownies/
http://www.clarkscondensed.com/recipe/marbled-pumpkin-spice-brownies/
This recipe was created on ClarksCondensed.com. Feel free to distribute as needed, but if you post it on your own site, please link to back to ClarksCondensed.com
1/2 cup butter

1 cup sugar
1/2 cup pumpkin spice M&MS
The following two tabs change content below.
Katie Clark is a Colorado-native, a journalism graduate from Brigham Young University, and most importantly, a mother to the cutest little boy and wife to the most handsome man. She is a woman of many (random) talents, which include writing, cooking, sewing, technology, social media, and being a self-proclaimed Google expert. She loves spending time with her family, learning about parenting and pregnancy, and just enjoying life to the fullest.