A delicious blend of mozzarella, parmesan, and romano cheeses, combined with spinach and artichoke, makes this a killer copycat recipe of Applebee's Spinach Artichoke Dip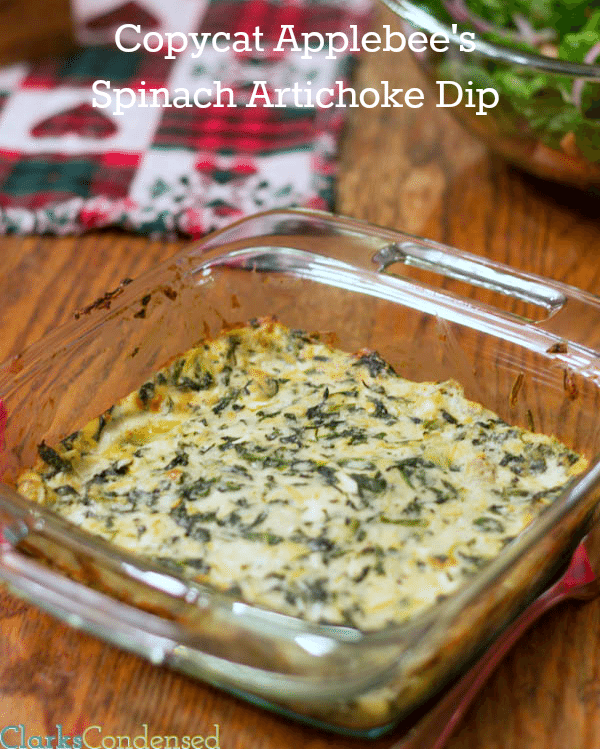 When we go out to eat, it's rare that we'll buy an appetizer or dessert. In fact, it's rare that we buy two meals! However, there's one item that often appears on appetizer lists that always tempts me.
Spinach artichoke dip.
LOVE spinach artichoke dip. It's full of tons of things that aren't good for me, and I regret eating hours later because it's full of lactose, but whenever I see it listed on a menu, those thoughts all disappear. And the place that has my favorite kind of spinach artichoke dip? Applebees. I've found out that not all restaurants make their recipes the same, and homemade spinach artichoke dips rarely satisfy me. So for the longest time, I've been on the search for a copycat recipe for Appleebees spinach artichoke dip (that actually tasted like it was from the restaurant), and I think I finally created it.
This recipe was so spot on, I could hardly believe it. And my mom, who is also a huge fan of Applebee's spinach artichoke dip, agreed. It was practically an exact replica.

I think I like this version because it doesn't go heavy on the artichokes, which is my main complaint about some recipes. There's just the perfect amount of all the different ingredients, that all combine together perfectly for a creamy and savory dish.
I served this with chips, but also decided to make some simple crostinis with some day-old french bread. They turned out to be the perfect thing to dip in this, so I'll include that recipe as well. This can be made lactose free (even though I didn't do that) and I'll include those substitutes — though I can't guarantee it will taste exactly like Applebees' if you don't follow this exactly.
What is the one food that you always want to get when you go out to eat?

Copycat Applebee's Spinach Artichoke Dip
Recipe type: 
Copycat Appetizer
Prep time: 
Cook time: 
Total time: 
A copycat recipe of the delicious and savory spinach artichoke dip from Appleebee's.
Ingredients
10 ounces frozen, chopped spinach (thawed)
10 oz artichoke hearts, drained and chopped
½ cup shredded parmesan cheese
½ cup shredded romano cheese
½ cup shredded mozzarella cheese
10 ounces prepared alfredo sauce
1 teaspoon minced garlic
4 ounces softened cream cheese
1 teaspoon pepper
Crostinis
1 loaf of french broad
¼ cup olive or vegetable oil
Italian seasoning
Garlic powder
Instructions
Preheat oven to 350 degrees. n a large bowl, combine all the ingredients with a spoon until smooth. Place in an 8x8-inch glass dish, and baked for about 30 minutes.
For crostinis:
Turn oven to broil. Cut thin slices of the french bread, and cut each of those slices in half. Brush both sides of each piece of bread with olive oil, and sprinkle Italian seasoning and garlic powder on both sides. Place in oven for 3 minutes, flip, and place in oven again for another 3 minutes
Notes
Lactose Free Alternatives --Kraft Italian Cheese mix (or Kraft Parmesan-Romano mixture) --Kraft Mozzarella Cheese --Dairy Free Alfredo (available at Sprouts or Whole Foods)
Nutrition Information
Serving size: 
5
Calories: 
326
Fat: 
23g
Saturated fat: 
11g
Unsaturated fat: 
9g
Trans fat:
0g
Carbohydrates: 
17g
Sugar: 
4g
Sodium: 
760mg
Fiber: 
5g
Protein: 
17g
Cholesterol: 
55mg
The following two tabs change content below.
Katie Clark is a Colorado-native, a journalism graduate from Brigham Young University, and most importantly, a mother to the cutest little boy and wife to the most handsome man. She is a woman of many (random) talents, which include writing, cooking, sewing, technology, social media, and being a self-proclaimed Google expert. She loves spending time with her family, learning about parenting and pregnancy, and just enjoying life to the fullest.