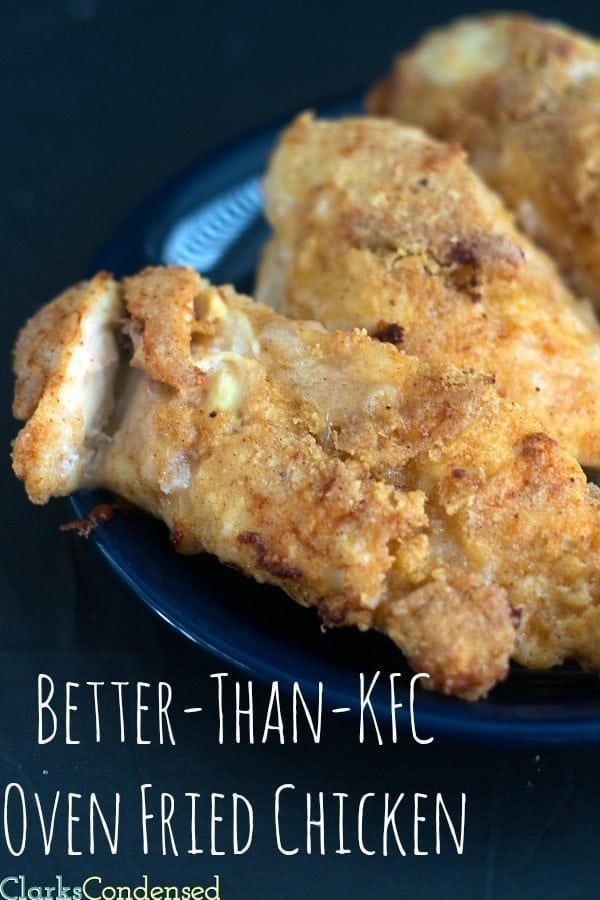 Delicious and moist, this baked fried chicken is amazing — it tastes just like KFC….but even better, because it's homemade.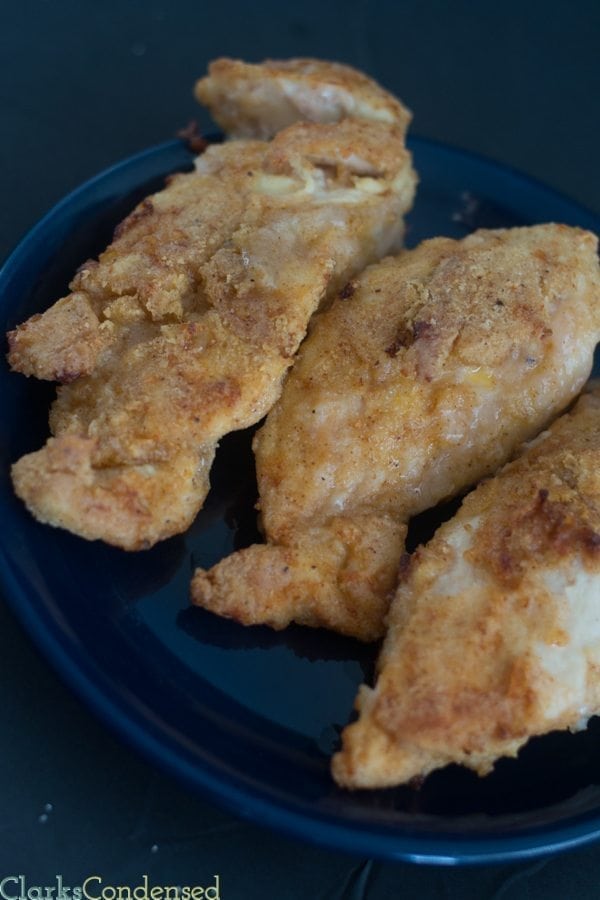 Does anyone actually like KFC? Because I feel like I never have a good experience there. I love the seasoning of the breading on their chicken, but the chicken always tastes kind of slimy to me.
I found this recipe awhile ago from Just A Pinch, and after altering it ever so slightly, I think it's pretty dead on to the flavor that KFC's fried chicken has, but tastes so much better. The chicken is super juicy, but it doesn't have the slimy texture that I often feel KFC's has. The breading is nice, crispy, and buttery, and tastes so much like KFC. Paired with some biscuits and mashed potatoes, this recipe might make you never want to go to KFC again. And, it's so easy and cheap to make! Plus, it's oven fried, which I think is healthier than deep frying!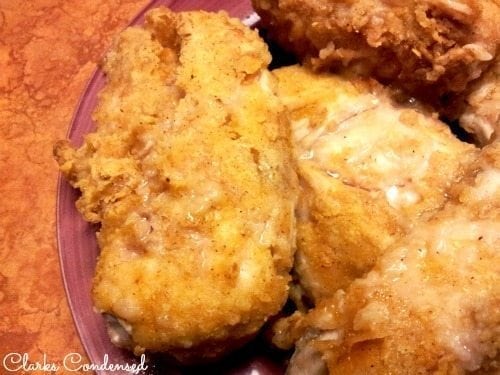 When I reference Season All, this is the kind I get. You should be able to get it at any grocery store!
Better-than-KFC Oven Fried Chicken
Ingredients
1/2 cup butter
5 chicken breasts
1 1/2 cup flour
1.5 Tablespoons Season All
1 teaspoon pepper
2 teaspoon paprika
1.5 cup milk or almond milk
Instructions
Soak chicken breasts in milk for at least 30 minutes (longer -- up to 3 hours -- is better.)
Preheat oven to 400 degrees. In a 9x13 baking dish, slice the butter into about 8-10 pieces and place around dish. Melt in oven while other steps are completed.
In a large bowl, place flour, season all, pepper, and paprika and mix with a wooden spoon. Take each piece of chicken and shake off excess milk, and dip into flour mixture. Flip it until it's covered in the mixture. Place each piece of chicken in prepared baking dish, making sure not to overlap pieces.
Bake for about 20 minutes, then flip each piece. Bake for another 20 minutes, or until chicken is no longer pink. Cut into a few pieces to ensure they are cooked thoroughly, and the juices run clear.
6.8
http://www.clarkscondensed.com/recipe/better-than-kfc-oven-fried-chicken/
This recipe was created on ClarksCondensed.com. Feel free to distribute as needed, but if you post it on your own site, please link to back to ClarksCondensed.com